Painted Christmas Tree Pot
Stacking clay pots has never been so fun. Create this cute Christmas Tree Pot for any room. The beautiful patio paint is what puts this all together. Of course the star "tops the cake." You can pull this craft out every year.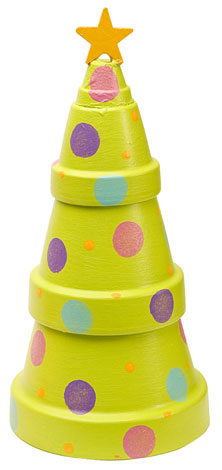 Materials:
Patio Paint
DCP56 - Bright Lime Green
DCP29 - Petunia Purple
DCP58 - Azalea
DCP57 - Marigold
DCP63 - Blue Bahama
Foam plate
1" wood star
Four clay pots: 1/2", 1 3/4", 2 3/4", and 3", Michael's
3/4" flat brush
3/8" round foam pouncer brush
E6000 industrial strength adhesive
Instructions:
Use flat brush and Bright Lime Green to paint outside and top edge of pots; let dry.

Stack pots with rims down and largest on bottom; glue pots together inside rims.

Use Marigold to paint star; let dry.

Use pouncer dipped in Blue Bahama to paint dot ornaments on tree. Repeat with Petunia Purple and Azalea. Let dry.

Glue star to top of stacked pots.
Your Recently Viewed Projects