Create this unique Christmas tree journal for the holidays with craft foam and Foam Paint. Keep your Christmas gift lists in this journal.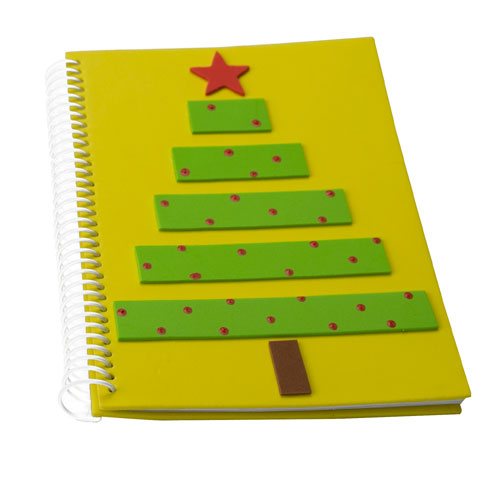 Materials:
DecoArt Products Required
Supplies
6" craft sticks, green, Darice Foamies #1040-88
Small red star sticker, Darice Foamies #1031-14
Brown craft foam
Ruler
Scissors
Aleene's Quick-Drying Tacky Glue
Yellow 6 x 8 journal, Darice Foamies, #1044-29
Instructions:
Cut rounded ends off of five green craft sticks to form straight ends. Cut following lengths: 5 1/2"; 4 1/2"; 3 1/2"; 2 1/2"; and 1 1/2".

Attach star sticker near top center of journal front.

Cut 1/2" x 1" piece from brown foam; glue brown piece for tree trunk near bottom center of journal front.

Refer to photo and center five green foam pieces on journal front, with longest length at bottom above trunk and lengths decreasing as you move upward; glue in place.

Use Red Foam Paint to dot on ornaments on tree; let dry.
Your Recently Viewed Projects