Make Your Own Hair Accessories: 23 Free Patterns
Explore our collection of DIY headbands and more for great ways to dress up any outfit.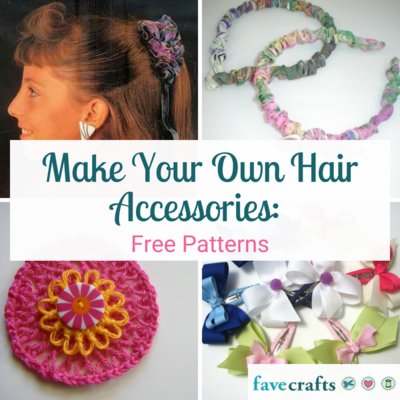 Is your outfit looking a little bland and boring? Just add accessory! Accessories are the cheapest and easiest way to update an outfit. You could pin a sewn fabric flower to one of your white shirts or clasp on a DIY statement necklace, and it'll instantly look fashionable. But what if you don't want to wear any clothing accents or jewelry? 

Lately, we've been in love with hair accessories because they're so trendy and fashionable. Whether you're wearing a hat or a headband, your outfit will look so much better with a hair accessory, and they hide a bad hair day too! 

DIY hair accessories can be customized to your style, and they also make an inexpensive gift for your fashionista friends. So, if you're ever wanted to learn how to make hair accessories, check out this collection of Make Your Own Hair Accessories: 23 Free Patterns. From hair bows to hair pins, you'll find all types of free accessory patterns that'll make your outfit and your hair stand out.
Table of Contents
Your Recently Viewed Projects