Tips for Decorating Denim
These how to decorate jeans ideas are lovely for crafters of all skill levels!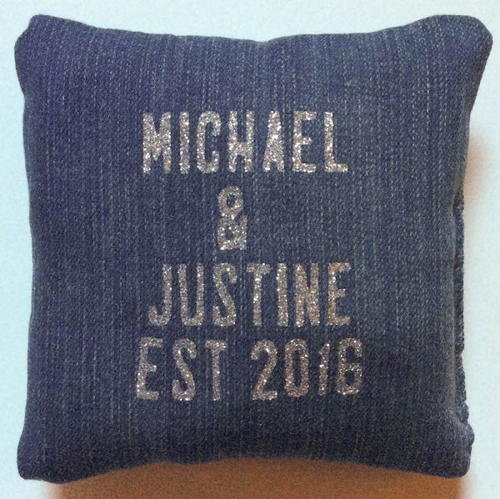 Learn how to decorate jeans with some of the tips and techniques Marie Segares shares in her article. You can use these techniques in your general crafting or to update a plain pair or jeans that can use a bit of a facelift. Follow these suggestions for applying craft paint, fabric markers, stamps, and more to your jeans to get the look you desire. Remember that some fabric paints show up great on dark colors, and others hardly show up at all. You can add buttons and other embellishments to your denim, too. Have fun customizing your old jeans with this article, and let these techniques inspire your next upcycle!

From the Designer: "I'm Marie from Underground Crafter and if you're like most people I know, you probably have a collection of old jeans somewhere in your closet. While those jeans may no longer fit or may not be in a style you want to wear, they can still be used for sewing and other crafts projects. But the limited color palette of most denims can get a bit boring. Luckily, there are so many ways to decorate denim. Here are a few of my favorites."
Different Ways to Customize Denim
Fabric Paint. There are so many different types of fabric paints available today, including textured, flat, glitter, and more, that you're sure to find the right colors and textures for your denim.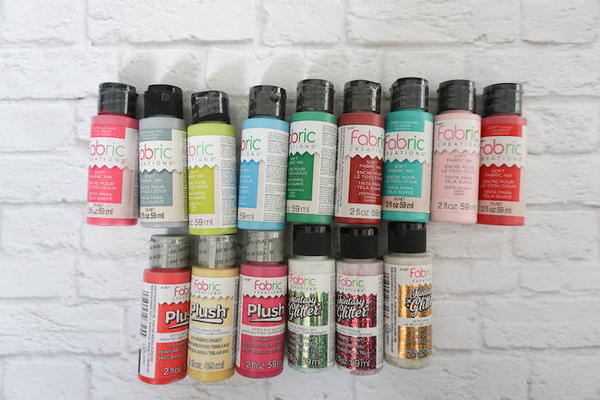 Be sure to read the instructions before starting as most fabric paints require shaking, others require heat setting or other treatment, and drying times will vary. Fabric paint can be used to create freehand designs, to work with stencils, or even for stamping!

To stamp with fabric paint, add enough paint to felt or another surface so that it is very wet and covers a surface larger than your stamp.
Place your stamp in the paint…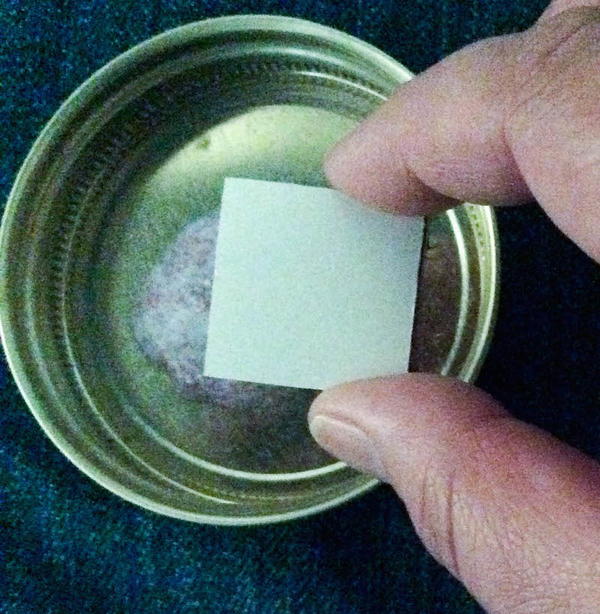 … then scrape away any excess paint by wiping the stamp on the side of a hard surface. Position your stamp and then press it down very firmly, applying some pressure. Lift it carefully so you don't drag the paint.

While the fabric paint is wet, you can use a wet cotton swap to wipe away any excess paint or mistakes on your denim.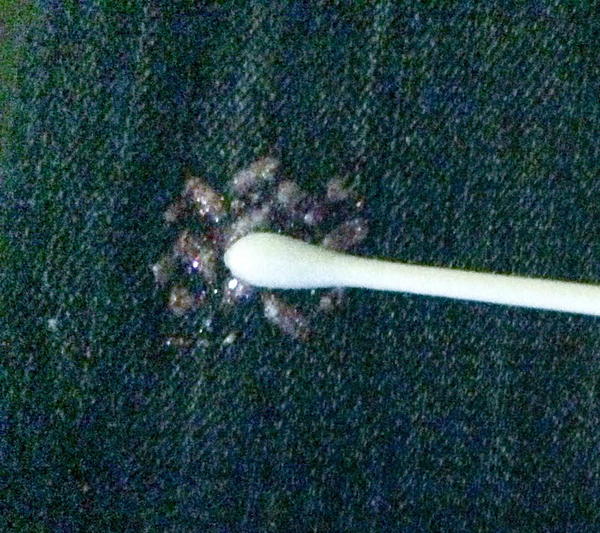 When using fabric paint, keep in mind that the colors may look different wet and dry. You may also find that some colors are not as visible on darker denims…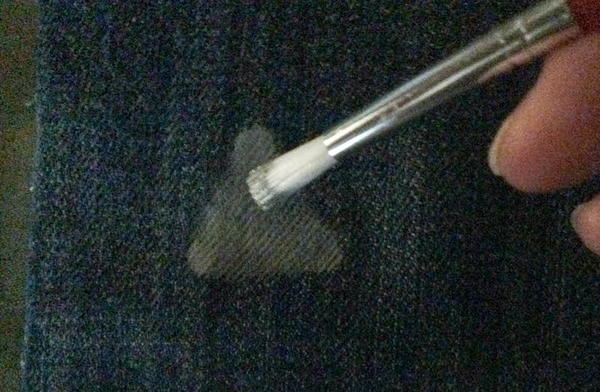 but are quite bold on a lighter pair of jeans. For best results, test the paint on a small area of denim and then heat set and/or dry following manufacturer's instructions to see if you like the color before starting a larger project.

Fabric Markers. Fabric markers and pens are similar to fabric paints…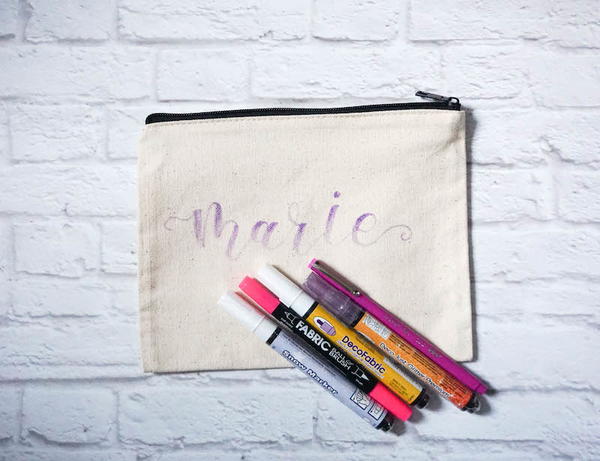 …but you don't need brushes, stamps, or other tools for applying them to fabric. Some fabric markers are even specifically made for working on darker fabrics like denims.

As with fabric paints, following the instructions for application and drying. Test a small area to see how colors look when wet…

…and then compare to the colors when dry to ensure you will be getting the look you prefer for your project.

Hand Embroidery. Stitching on denim can add both texture and color. You can trace a design onto jeans using a fabric marker or chalk, or work freestyle using favorite stitches.

If you plan to use the embroidered denim in a quilt or other project, cut the denim fabric before you get started. Use fabric stabilizer or embroider with a hoop since denim may stretch and become difficult to embroider with otherwise.

Buttons. Use fabric glue, embroidery floss, or yarn to attach buttons to denim in a decorative pattern.

Heat Transfer Vinyl or Iron-On. Use a cutting machine, pre-cut iron-on shapes, or iron-on printer paper to create designs to add to denim with heat. Here's an easy tutorial for personalized denim sachets to get you started.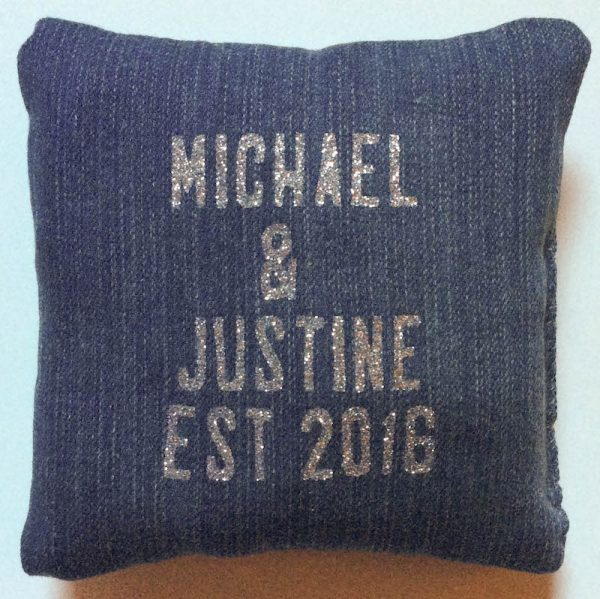 Crochet, Knitting, or Yarn. Use fabric glue or sew with a chenille needle if you want to add crochet or knit patches to denim. This crochet pattern is actually worked right onto the denim!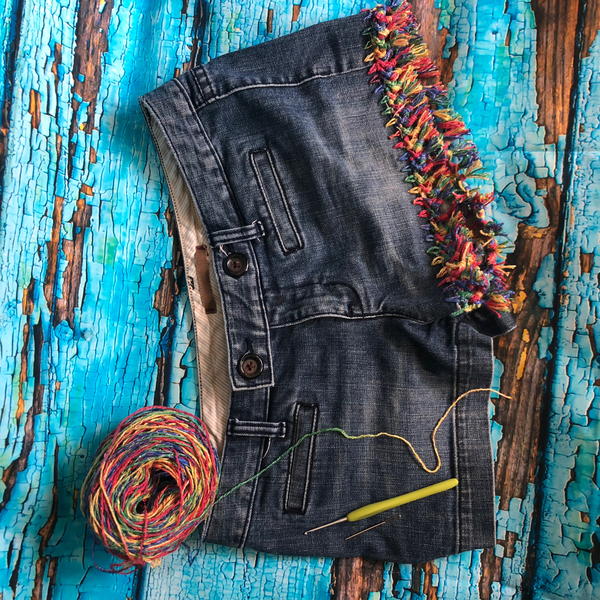 This project is part of our National Craft Month promotion, where a new project is featured every day in March! View the full lineup:National Craft Month 2020
Your Recently Viewed Projects
Join our community of 5 million crafters!
Get free craft projects, exclusive partner offers, and more.
Thank You for Signing Up!
There was an issue signing you up. Please check your email address, and try again.