Patriotic Starburst Bouquet
Celebrate your patriotism with this red, white and blue craft project. This festive bouquet makes a great quick and easy Fourth of July decoration or the perfect outdoor picnic table decoration.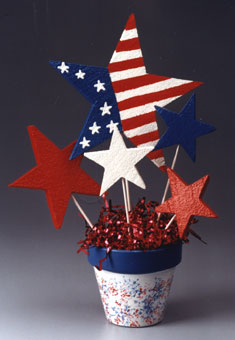 Materials:
STYROFOAM Brand Foam:

Sheet, 1" x 12" x 36"
Stars: 9" x 1/2", one; 6" x 1/2", one; 4 x 1/2", three

Clay pot, 5"
Wood dowels, 36" x 1/8", two
Multipurpose acrylic sealer
Acrylic paints: white; bright red; denim blue
White dimensional paint
Satin varnish
Metallic red shredded Mylar
Paintbrushes, 3/4" and 1/2" flat wash
Serrated knife
Five wood skewers
Disposable palette
Paper towels
White, thick craft glue
Transparent tape, 1/2" width
Ruler
Scissors
Craft knife
Sea wool sponge
Paraffin or candle stub
Steps:
Apply sealer to clay pot and let dry. Paint clay pot, excluding rim, and wood dowels white. Paint pot rim blue, extending color 1" to inside top. Let dry. Sponge paint white portion of clay pot with blue, let dry, and then repeat with red (refer to photo).

Insert a wood skewer into edge of each foam star at center bottom to use as a handle while painting. Insert opposite end of skewer into foam sheet while paint dries. Paint stars as follows: one 4" and one 6", red; one 4", white; one 4", blue.

For flag pattern on 9" star, paint two left points blue and three remaining points white (refer to photo). Use tape to mask off eight white stripes on star, continuing pattern onto edges and back. Paint unmasked white portion of star red, creating nine red stripes. Let dry and remove tape. With white dimensional paint, paint seven 5-point stars on blue field. Squeeze paint in center of each star and pull out to points with bottle tip. Let dry thoroughly.

Apply varnish to clay pot, stars, and wood dowels. Let dry.

Using a utility knife, cut one each of following lengths from white wood dowels: 12" dowel (flag star); 8" dowel (large red star); 11 1/2" dowel (blue star); 8 1/2" dowel (white star); 6 1/2" dowel (small red star). Replace skewers in stars with wood dowels as indicated and glue.

Wax serrated knife with candle stub or paraffin. Cut pieces of sheet foam to snugly fit clay pot. Layer and glue foam inside pot. Arrange stars in pot, gluing wood dowels into foam (refer to photo). Glue shredded Mylar, covering top of foam.

®™ Trademark of The Dow Chemical Company ("Dow") or an affiliated company of Dow.
For more project ideas, please see styrofoamstyle.com.
Your Recently Viewed Projects