American Picnic Basket
A simple wood picnic basket transforms into a pretty and patriotic carrier with this painting project. This basket is perfect for bringing snacks to 4th of July fireworks.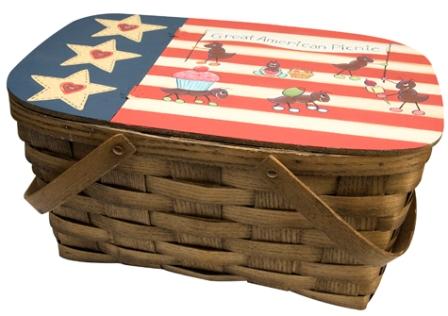 Detail below
Materials:
DecoArt Products Required
Americana Acrylics
DAO1 - Snow (Titanium) White
DAO3 - Buttermilk
DAO8 - Yellow Ochre
DAO11 - Lemon Yellow (transparent)
DAO18 - Country Red
DAO52 - Avocado
DAO56 - Olive Green
DAO63 - Burnt Sienna
DAO67 - Lamp (Ebony) Black
DAO80 - Russet
DA140 - Red Violet
DA163 - Honey Brown
DA166 - Deep Midnight Blue
DA215 - Peony Pink
DA233 - Wild Orchid
DA255 - Bahama Blue
DA257 - Bleached Sand
DA274 - Carousel Pink
DA276 - Razzle Berry
DA277 - Spa Blue
Americana Drying Time Extender
DAS1 - Brush 'n Blend Extender
Americana Spray Sealers
DAS13 - Americana Matte Spray
Supplies
1" flat brush
12 flat brush
6 flat brush
10/0 liner brush
Water container
Palette or plastic plate
Paper towels
Tracing & transfer paper
1" painter's tape
Vintage picnic basket, stained

Instructions:

NOTE: Allow to dry between steps.
Use 1" flat to basecoat left section of basket top Deep Midnight Blue and right side Buttermilk.
Use painter's tape to mask off stripes. Paint open areas Country Red. Remove tape.
Load 12 flat with Drying Time Extender. Pick up Burnt Sienna on one corner of brush. Shade edges of Buttermilk stripes.
Trace and transfer designs.
Paint stars Yellow Ochre and buttons Country Red.
Paint ants, Russet; banner, Bleached Sand; cupcake base, Spa Blue; frosting, Peony Pink; cherry, Country Red; olive, Olive Green; cheese cube, Yellow Ochre; grape, Red Violet; toothpick and small basket, Honey Brown; watermelon slice, Razzle Berry and Olive Green. Paint ant hands and feet assorted colors as desired.
For stars/buttons: Use 6 flat brush and Russet to shade inside button recess. Highlight edges with brush mix of Yellow Ochre and Country Red. Add small comma stroke highlights of Snow White. Use brush handle end and Deep Midnight Blue to place two dots in button centers. Use liner brush and Snow White to add thread. Use brush handle end and Lemon Yellow to dot stars. Use liner brush and Deep Midnight Blue to paint stitches.
For ants: Use 12 flat brush to highlight ant bodies with Wild Orchid. Use liner brush and Lamp Black to add eyes, mouths, legs and antennae. Add Snow White to eyes. Outline ants with Deep Midnight Blue.
For cupcake: Use 12 flat brush to shade under frosting with Bahama Blue. Use liner brush and Bahama Blue to stripe base. Shade frosting with Razzle Berry and highlight with Carousel Pink. Highlight cherry with Peony Pink. Add stroke highlight with Snow White. Use liner brush to paint sprinkles multiple colors. Use liner brush and Deep Midnight Blue to outline and add detail on base.
For olive: Shade olive with Avocado. Outline with Deep Midnight Blue.
For toothpick: Shade grape with brush mix of Deep Midnight Blue and Red Violet. Add comma highlight with Peony Pink. Outline grape, cheese, and toothpick with Deep Midnight Blue.
For basket: Paint fruit with Razzle Berry and Olive Green. Outline and add details with Deep Midnight Blue.
For watermelon: Add Snow White stripe; add Deep Midnight Blue seeds and outline.
Trace and transfer lettering on banner. Use liner brush and Deep Midnight Blue for lettering. Outline banner and paint posts with liner brush and Lamp Black. Add Bahama Blue flags.
Mist lightly with Americana Matte Spray to seal. Repeat allowing to dry between coats.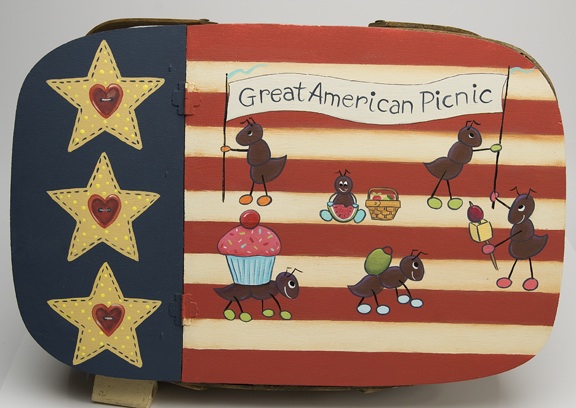 For more great 4th of July craft ideas, download our free 4th of July eBook.
For other fantastic picnic essentials, be sure to check out our collection of 7 Picnic Accessories and Essentials!
Your Recently Viewed Projects
Join our community of 5 million crafters!
Get free craft projects, exclusive partner offers, and more.
Thank You for Signing Up!
There was an issue signing you up. Please check your email address, and try again.