How to Sew Felt: Essential Tips and Hints for Sewing Felt Fabric
Felt sewing isn't as difficult as you think. Learn the basics here.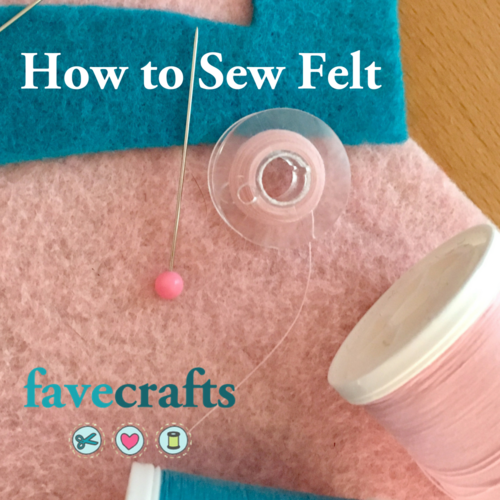 Learn how to sew felt with the information included in this helpful article. You'll discover hand sewing tips and machine sewing hacks for felt.

If you've seen adorable felt sewing projects like this Hand Sewn Felt Owls tutorial and were too intimidated to give them a try, fear no more! With these helpful tips and tricks, you'll become an expert in sewing felt and you'll be inspired to create tons of adorable projects!

You can use these tips to teach the grandkids how to sew felt, or help them complete their projects by using the sewing machine to finish them. You can even repair other felt items as needed. No matter what, these tips are sure to come in handy.
Essential Tips and Hints for Sewing Felt Fabric
Felt is one of my favorite fabrics! It's colorful, affordable, and has a wide variety of uses for craft, fashion, and home DIY projects. It's easy to sew and is available in stores as well as online, making it really popular.

What is felt? For a refresher, felt is defined as a fabric that is made using matting, pressure, or heat (rather than weaving). You can purchase it in sheets or big rolls, depending on how much you need for your craft project. It can be made from natural materials like wool, synthetic fibers such as polyester, and even a blend. 

For this post I focus mainly on sewing felt sheets made from recycled plastic bottles (which is super cool and eco-friendly!), as well as offering some tips for sewing wool felt. This kind of felt can be used to make purses, headbands, brooches, wall decor, jewelry, and much more. 

Now let's explore how to sew this kind of material, both by machine and by hand!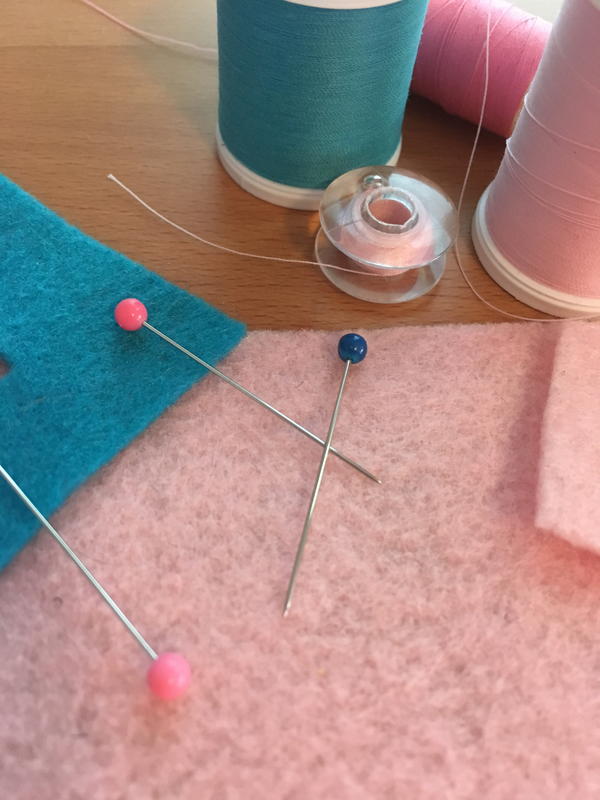 Hand Sewing Tips
You may want to sew your felt fabric by hand. Sometimes you don't have a machine nearby, or your project doesn't require one. Hand sewing is especially useful as a finishing feature or to secure a raw hem on felt. It gives your project a unique touch as well as a finished look. Felt doesn't fray very much compared to other fabrics, but if you plan to use your item a lot it's a good idea. 

What is the best needle for sewing felt? You can use a large darning needle for decorative hand sewing, though the size of the needle you will need depends on the particular thread and fabric you're using.

When hand sewing, don't pull your thread too hard or you can warp the felt out of shape! Go with the texture and natural direction of the fabric when you are working with it, and keep your hand stitching consistent throughout for the best finished result. 

If you're doing appliqué or a decorative hand stitch technique on felt, you may want to use a cotton or even metallic thread. There will probably be some trial and error involved, and some kinds of thread might work better on certain types of felt than others. 
Machine Sewing Tips
Choosing Your Sewing Supplies
The correct thread, scissors, and machine needle are all important for machine sewing felt fabric. Felt is a relatively soft material, so you can typically use a regular sewing needle unless your felt is super thick (like one made from a dense wool). As for scissors, always(!!!) use fabric shears and never paper scissors. Fabric scissors provide a clean edge and are safer to use when cutting fabrics. 

The right thread is also essential! I've found that general all-purpose polyester thread works well for sewing synthetic fiber felt sheets together (with felt and other kinds of fabrics), but your particular felt material might be okay with a cotton or cotton-blend thread. The best way to make sure you are using the appropriate thread type is to do a sample test piece on a scrap of your felt. You can even try several types of thread to see which you prefer!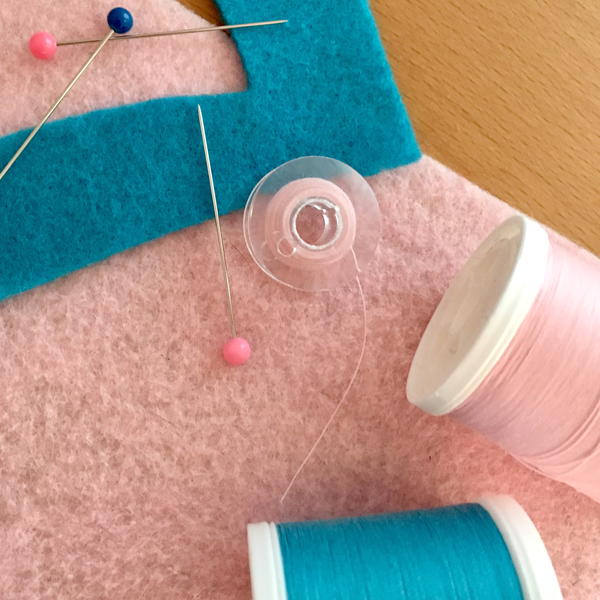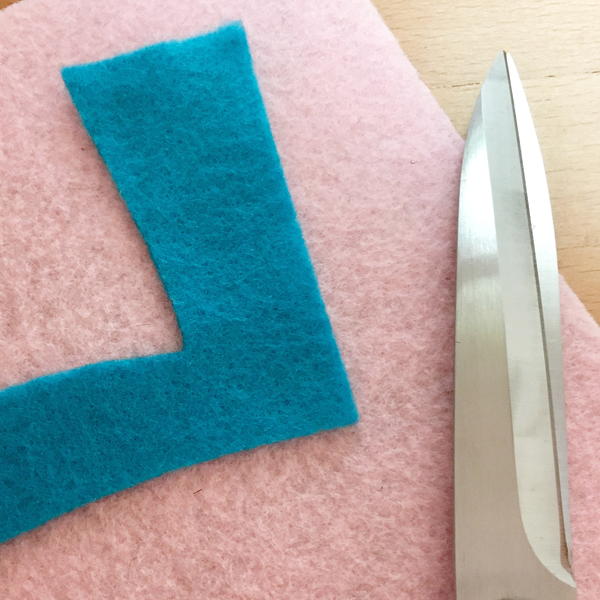 Sewing Machine Settings
Stitch length, pattern (straight, zig zag, etc.) and tension are critical when machine sewing felt sheets. If the stitch is too short or tight the felt might gather and warp, and if it's too long it won't securely hold and will be loose. As with the thread sample test mentioned above, a scrap test piece will also help you determine the correct stitch length, stitch pattern, and tension for your machine and felt fabric. Then you can confidently begin to sew your project!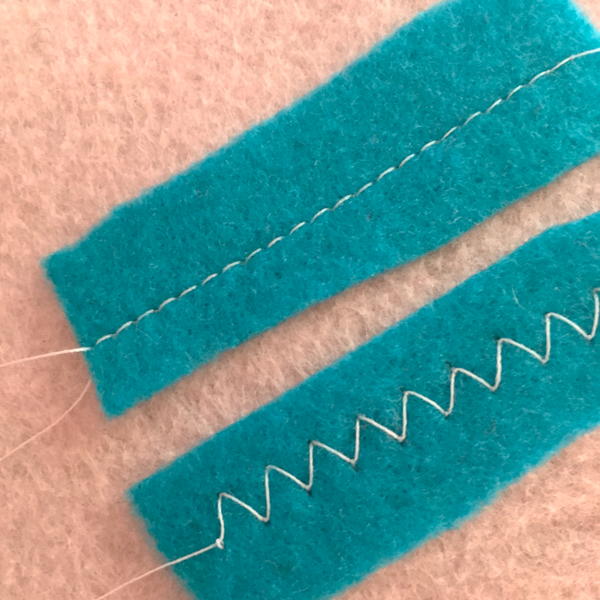 Removing Sewn Stitches
Sewing errors happen to everyone! If you have to remove thread stitches from felt fabric there are few things to consider. Felt tends to have little fibers that can stick up, so when using a seam ripper be really careful you don't catch the material instead of the thread. This applies to whichever way you hold your seam ripper when using it- I prefer the sharp side down and the round side facing upwards. Also be sure not to pull the thread you're removing too hard or quickly or the felt might get warped out of shape. Once you've taken it out, lay your felt fabric flat on your work table and gently flatten it back into shape, especially where the stitch holes might remain.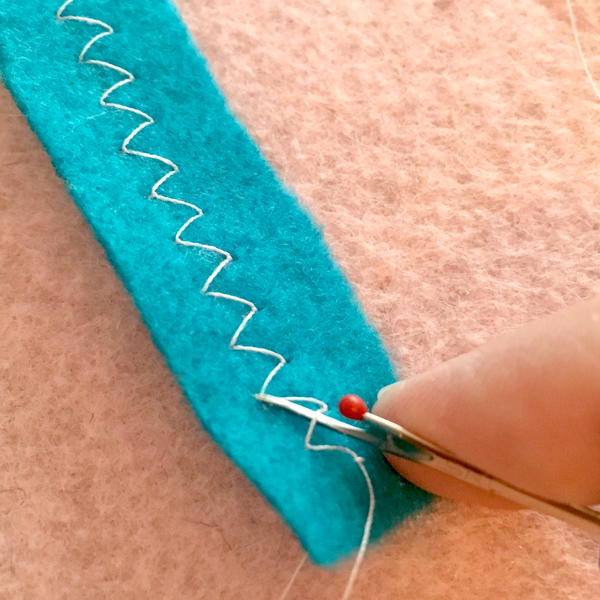 These tips and suggestions will help you sew felt with ease. Have fun crafting!

What else would you like to know about working with felt?
Your Recently Viewed Projects