With plenty of gloss enamels you can create this lovely painted palm tree glass for the holidays. It makes for a great gift. You can create it eleven steps and you'll be glad you did.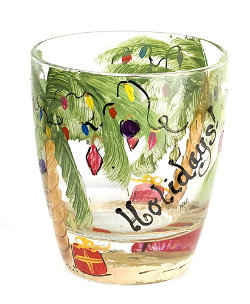 Materials:
DecoArt Products Required
Americana Gloss Enamels

DAG04 - Sand
DAG36 - True Blue
DAG52 - Avocado
DAG63 - Burnt Sienna
DAG67 - Black
DAG71 - Glorious Gold
DAG101 - Dioxazine Purple
DAG129 - True Red
DAG151 - Royal Fuchsia
DAG163 - Honey Brown
DAG201 - Primary Yellow
DAG269 - Foliage Green

1/4" and 1/2" flat brushes
#10/0 liner brush
#3 and #6 round brushes
Small round sponge pouncer
Water container
Palette or plastic plate
Paper towels
Alcohol
Highball glass

Steps:

Note: Let dry between steps.
Preparation: Clean glass with alcohol. Dry well with paper towel or soft cloth. Position and tape pattern inside of glass.
Use #6 brush and Honey Brown side-loaded with Burnt Sienna to make tree trunk. When dry, shade with Sand.

Pounce Sand and Burnt Sienna around base of glass for sand, side-loading pouncer with each color.

Use 1/4" flat brush and Foliage Green side-loaded with Avocado to paint palm leaves, three or four on each side of trunk.

Use 1/2" flat brush and True Red to make three square packages sitting on top of sand.

Use #3 round brush , Royal Fuchsia, True Blue, True Red, and Primary Yellow to make light bulbs in leaves.

Use tip of 1/2" flat brush and Dioxazine Purple to make ornaments in tree.

Use liner brush and Glorious Gold to make caps for light bulbs and hooks for ornaments.

Use liner brush and Primary Yellow to make ribbons and bows for packages.

Use liner brush and Black to outline trunk, presents, and wire to connect light bulbs.

Allow to air dry for 48 hours.

Place in painted glass in cool oven and set on 325 degrees. When oven reaches 325 degrees, set timer for 30 minutes. After 30 minutes, turn off oven, crack open door, and allow piece to completely cool before removing.

Your Recently Viewed Projects