Beaded Tablecloth Weights
These tablecloth weights from The Bead Studio combine function and style. Put them on your holiday table this year and no one will even know they are more than a fun decoration.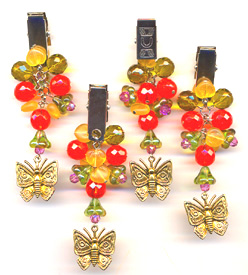 Materials:
4 badge clips
20 6mm split rings
40 headpins
4 eyepins
4 large charms
48 large glass beads
Steps:
Attach 5 split rings together & hook to the badge clip.



Add charms to the loop of the eyepins.



Add 2 beads to eyepin and create a loop with round nose pliers, attach to the bottom split ring.



Add 1 bead to each headpin & create a loop on top of the bead.



Gently open loop to the side, slip onto split ring and close. (2 beads per ring)



Continue adding beads until the split rings are filled.



Remember: this project works best with large, heavy beads and charms.


Your Recently Viewed Projects