Colorful Coffee Filter Wreath
Looking for a fun, cheap and easy craft to make with items from around the house? Look no further! The Colorful Coffee Filter Wreath from Annie for The Chic Country Cottage is an easy way to create something fantastic.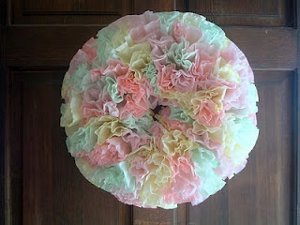 Materials:
Food Coloring
Coffee Filters (Box of 100)
Wreath Form
Baking Sheet
Bowls for Food Colorig

Instructions:
Coffee filters and food coloring?? Oh yes!! Gather em up!



I used an entire container of 100 coffee filters for my wreath. Get some water in a bowl and add the desired food coloring. I started with just red. Dip the end of your coffee fiter in like so...



The water sort of wicks up and colors the entire filter. I set mine on a baking sheet to dry.



And I did not divide up my filters evenly. This looked like enough of this pink color so I went on to the next color...



Next was green using the same method...



I used the same baking sheet for all my colors and put a sheet of paper between each one. They did sort of bleed through a little. But the wreath turned out great so I would not worry about it if I was you!



Next came a purple-ish color. Red and blue make purple! :)



When you mix two different food colorings you can kind of see each color on the coffee filter....see the blue-ish tint on the tops of them. I thought that was extra cool!



Then I did a green-ish yellow for my last color.



Now to attach them to your wreath form. I have standard wreath forms that I have covered in strips of white cotton material. This makes it extra easy to just rip everything off when you are ready for a change and re-use the form. I took each coffee filter and put the eraser end of a pencil down in it. 



Put on some hot glue and started attaching. One row like this....



Then the next row like this...I just randomly put on the colors. No rhyme or reason.



Then the inside row.



And the last row right on top. Then any extra filters I used to fill in any gaps. Go ahead and get your coffee filters! I know you wanna make one!


Your Recently Viewed Projects