"Cheap Home Decor: Crafting with Paper" eBook
Paper is one of the best materials to craft with because it's everywhere. You can do paper crafts with computer paper, notebook paper, tissue paper, newspaper, and, of course, scrapbook paper. Scrapbooking and card making are increasingly popular pastimes for crafters, but lately people have been looking for other ways to craft with paper. After all, who wants to spend all that time perfecting a scrapbook layout only to have it shoved into a book and stored on a shelf? It's much more beneficial to display your crafts in your home! The benefits are twofold: you get to display the crafts that you toiled over (and you should be proud of them!) and you also get cheap, easy, and personalized home decor too, all just by doing something you love--paper crafting.
In this free eBook, compiled for you to download by the editors of FaveCrafts.com, you'll find 12 fun and easy craft projects to decorate your home using paper. We've put in everything from centerpieces to wall decor to wreaths, and even some decoupage techniques. Download a free copy today and start putting your paper to work!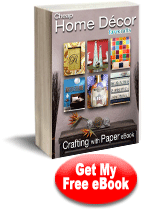 Download the Cheap Home Decor: Crafting with Paper eBook now!
Included in the Cheap Home Decor: Crafting with Paper eBook:
Mosaic Wall, p. 6- Scrapbook paper already comes in perfect squares that you can arrange on your walls for a non-permanent way to add color and personality. This project is especially great if you're a renter!
Decoupage Bud Vase, p. 8- If you make this paper project, your flowers will have to compete with their vase for your attention! Decoupage a glass bud vase with scrap paper and your vase will look like you bought it that way.
Paper Covered Picture Frame, p. 15- Decoupage an ordinary wooden picture frame with your favorite patterned scrapbook paper for a picture frame that looks professional.
Paper Flower Centerpiece, p. 16- Make a fancy-looking flower centerpiece on the cheap using paper! This project is perfect for weddings or other parties, and you don't have to worry about throwing away dead flowers at the end of the night.
Easy Paper Wreath, p. 22- Turn those easy paper chains you made as a child into a gorgeous, festive paper wreath for your home. Customize for any holiday or just to match your home decor.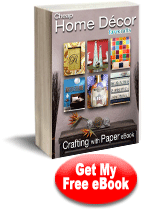 Download the Cheap Home Decor: Crafting with Paper eBook now!
You'll get all of these projects plus many more uses for scrapbook paper when you download Cheap Home Decor: Crafting with Paper for free today. Learn how to update your walls, decorate your table, and make wreaths for every occasion. All you need is some leftover paper and the projects in this free eBook. What are you waiting for? It's time to start making some cheap home decor!
For help downloading our eBooks, see our eBook Help Guide.
Some Reader Comments:
Amy Anderson said "I don't know about you, but I have a huge paper stash - some of it I have no idea what to do with! I love this e-book because it provides a source of inspiration for those papers, and the beautiful home decor projects are truly inspiring. There is a little something for everyone, and for any budget. I highly recommend this e-book to get your creative juices flowing and to use up some of that paper you have sitting around."
Your Recently Viewed Projects