"Family Fun Crafts: 16 Craft Ideas for Kids" eBook
Free Craft Ideas for Kids from FaveCrafts.com: Family Fun Crafts: 16 Craft Ideas for Kids eBook
One of the best things about crafting with kids is that you can spend quality time with them while also instilling a love of creativity that will last throughout their lifetime. And at the end, you have a handmade object to cherish! This free eBook is a great way to get a jump start on crafting with your kids. You can download it once and save it to your computer or e-reader, or you can even print it out and keep a copy at home with your craft supplies. And, if you'd prefer, you can just keep coming back to download it new every time you want to take another look. Inside you'll find crafts for toddlers, crafts for preschoolers, and even a few teen crafts. The crafts inside this free eBook are great ideas for parents and their children to try together. We've included photographs, materials lists, and instructions for 16 inventive, creative crafts for your family to do together. If you're looking for kids crafts and don't have time to search high and low, this eBook is your one stop shop! Just click to download it and you'll have 16 easy kids crafts to try, right at your fingertips! We guarantee that you can't try just one. Once you start crafting as a family, you'll be hooked! Make family craft night a part of your weekly ritual and you'll become closer as a family, as well as more creative.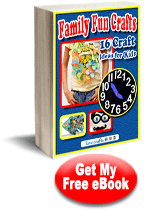 Download your copy of Family Fun Crafts: 16 Craft Ideas for Kids today.
Family Fun Crafts to Celebrate Nature: Blooming Spring Lei
The first section of this free eBook is dedicated to nature themed crafts. Children love nature, whether it be animals, plants and flowers, bugs, collecting rocks, or just breathing the fresh air and enjoying the earth in its natural state. Encourage their love of nature by creating nature-themed crafts with them, like this Blooming Spring Lei. Nature-themed crafts for kids are fun to do at night or on a rainy day when kids would like to be outside. Wrangle the kids at the craft table making these blooming leis or other nature crafts and they'll forget all about the yucky weather. If you're looking for arts and crafts for kids who love nature, this eBook is for you. Learn how to make this adorable paper flower lei and the other crafts in this chapter. Your kids will love it! You'll also find a decorate clay rock box to make with your kids, a friendly turtle made from paper bowls, some nature-inspired tissue-paper suncatchers and more! Celebrate nature with your children through crafting using the easy, thrifty ideas in this free eBook.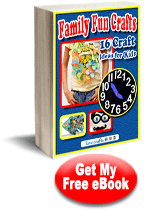 Download your copy of Family Fun Crafts: 16 Craft Ideas for Kids today.
Rainy Day Craft Ideas for Kids: Recycled Crayons
Recycling crayons is one of the thriftiest crafts you can do with your kids, and children love watching the transformation! Who doesn't fondly remember their mother melting down bits and pieces of old crayons to make rainbow crayons when they were kids? Recapture the magic you felt as a child by trying out these instructions for making your own recycled crayons. We've also got tons of other crafty ideas for how to spend a rainy day, so put down that remote and get to work making fun children's crafts! This chapter includes crafts for boys, crafts for girls, and other kids projects that will appeal to everyone. Turn a rainy day into a positive experience by spending time creating things with your family. With the projects inside this free eBook, you and your family can easily wile away an entire afternoon together without ever getting bored. Once you download the eBook and check out our rainy day craft ideas for kids, you'll understand! These art projects for toddlers and children are so much fun for the whole family. Another fun and thrifty idea inside this eBook involves crafting with an old CD! If you've got CDs that are scratched and no longer work, or if you've collected old AOL CDs that you never used, you can certainly craft something with them! Check out these ingenious ideas for family fun crafts to do on a rainy day.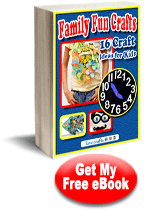 Download your copy of Family Fun Crafts: 16 Craft Ideas for Kids today.
Educational Kids Crafts: Child's First Learning Clock
There's nothing like teaching your child and watching him or her grow and develop. Just because children only go to school during the day doesn't mean they stop learning at night and on the weekends! Turn your crafting time into learning time with these easy kids crafts that double as teaching aides. This Child's First Learning Clock teaches children how to tell time, but they'll enjoy creating the clock with you using an old embroidery hoop. You'll have fun too, and it'll be even more enjoyable when your child starts to understand how to tell time. Crafting with kids is so rewarding, but teaching them is even more rewarding. Combine the two and you have yourself an afternoon of quality time spent together! These family fun crafts are perfect for parents and children of any age group. There's always something to learn, no matter how old you are. When you download this eBook you can try out all of the educational craft projects we've included. There are ideas for learning about dinosaurs, the solar system, and more. We've even added a customizable chore chart project for you and your kids to make together. This will help teach your children about responsibility, the value of a dollar, and accomplishment. Kids will enjoy filling it in and taking a bigger role in their own chores and other household responsibilities.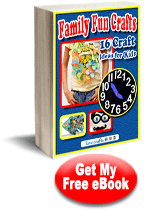 Download your copy of Family Fun Crafts: 16 Craft Ideas for Kids today.
Family Fun Crafts and Games: Felt Face Game
Crafting takes on a whole new purpose when you're making a DIY game! Not only do you get to enjoy crafting with your kids and creating something special and one-of-a-kind, but you also get to enjoy playing the game you made for years to come. This Felt Face Game is a fun way to get your and your kids' creative juices flowing. Come up with different facial features to make for your felt people, and then have fun mixing and matching them to create funny combinations. Homemade games make great Sunday school crafts and preschool crafts too. These project ideas will keep kids entertained for hours! Sometimes craft projects are fun to make, but you have no use for them when they're done. Homemade games evade this problem! When you're done, you have a brand new game to play whenever the mood strikes. Family fun crafts like these games are great for getting the whole family involved in one activity. You'll enjoy making and playing these games as much as the kids do!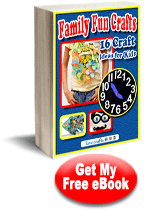 Download your copy of Family Fun Crafts: 16 Craft Ideas for Kids today.
With your free copy of Family Fun Crafts: 16 Craft Ideas for Kids eBook you can also subscribe to our Quick and Crafty newsletter to become part of a helpful and friendly crafting community. In subscribing to the newsletter you will receive:
Six weekly emails with free craft projects, tips, collection pages, videos and more
Chances to win craft books and products from our weekly giveaways and contests
New FREE patterns made available to you throughout the year
Access to our free project library full of over 7,000 more free craft projects
The opportunity to share ideas and help others in the crafting community
All of these great family fun crafts can be yours, absolutely free, from the nature-inspired and educational crafts to the rainy day ideas and homemade games to play. All you have to do is click to download the eBook, and you can save it to your computer, print it out, or just bookmark the page and return as often as you like! You and your kids will never be bored again once you download this free eBook. We guarantee you'll start spending even more quality time with your kids, and the whole family will get so much more out of it, when you have structured activities and fun craft projects to do together. Download it today to check out all 16 projects and see which one is your favorite!
Your Recently Viewed Projects
Join our community of 5 million crafters!
Get free craft projects, exclusive partner offers, and more.
Thank You for Signing Up!
There was an issue signing you up. Please check your email address, and try again.