If you like clay pots then this craft is a great one. This surfing monkey is so adorable. It makes for a great kids craft or a gift. The little monkey tail makes me smile.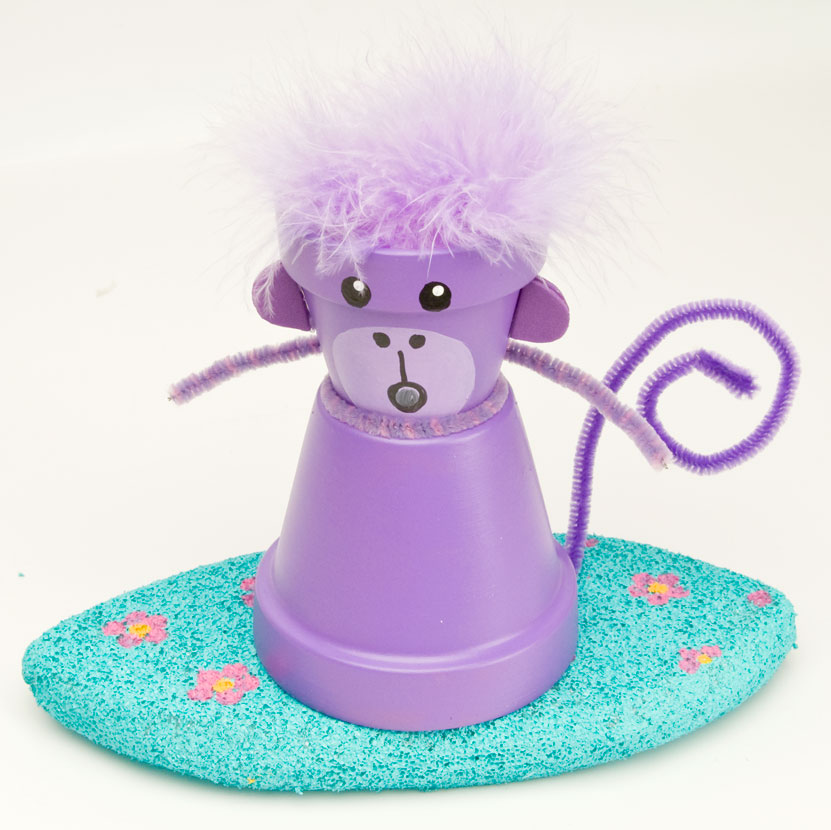 Materials:
DecoArt Products Required
Patio Paint

DCP14 - Cloud White
DCP21 - Wrought Iron Black
DCP28 - Fiesta Yellow
DCP29 - Petunia Purple
DCP58 - Azalea
DCP63 - Blue Bahama

#0 liner brush
#8 flat brush
Sponge brush
Two purple chenille stems
Purple foam sheet
Water container
Palette or plastic plate
Paper towels
Low-temp glue gun and glue sticks or thick craft glue
Purple feather boa
Scissors
Craft knife
Sandpaper with sanding block
Two clay pots
4" x 9" Styrofoam sheet
Instructions
Note: Let dry between steps.
Use sponge brush Petunia Purple to paint pots.

Use craft knife to trim Styrofoam piece to form surfboard. (Adult assistance required.)

Use sandpaper to round out edges of Styrofoam.

Paint surfboard Blue Bahama.

Mix a little Cloud White into Petunia Purple and paint monkey's muzzle.

Use liner brush and Wrought Iron Black to paint eyes, nose, and mouth.

Use brush handle and Cloud White to dot highlights on eyes.

Position and adhere head and tail on body, and ears and boa "hair" on head.

Twist second chenille stem around neck for arms.

Use brush handle end and Azalea to dot flowers on surfboard. Dot flower centers with Fiesta Yellow.

Position and adhere monkey on surfboard.
Your Recently Viewed Projects