Tiger Applique Sweater
Add tiger or other animal prints to a plain sweater with blanket-stitch applique from Sulky of America. Sewn embellishments create an interesting garment of wearable art. A large fabric tiger creates a focal point this example.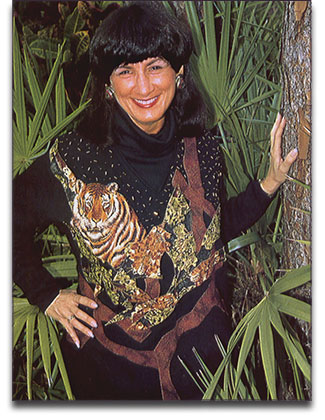 Materials:
Ready-to-Wear Sweater/Sweatshirt in your size
Zig-Zag Sewing Machine with optional blanket stitch
Appliqué Foot
2 or 3 Bobbins
Machine Needles: Metallica Size 14/90 or Top Stitching or Embroidery Size 14/90
Sulky Threads
Sulky 30 wt. Rayon:
1005 - Black
1057 - Dark Tawny Tan
1158 - Dark Maple

Sulky Sliver™ Metallic:
8006 - Bronze
8040 - Opalescent

Sulky Smoke Polyester Invisible thread for the Bobbin
Sulky Stabilizer: 2 yds. of Totally Stable™
Fabric
1/2 yd. green for long background leaves
1/2 yd. brown for background branches
1/4 yd. green print for large leaves
1/4 yd. nylon net with metallic sparkles to cover Tiger
1/4 yd. of Tiger fabric (or any Animal Print of your choice). The amount of fabric depends on size and placement of animal.
Notions
Large Teflon Pressing Sheet
Steam-A-Seam 2™ Double-Sided Fusible Web
Iron and Pressing Pad
Scissors & Pins
White Chalk Marker
Fine-Line, Permanent-Ink Marker
Optional - Sulky KK 2000 Temporary Spray Adhesive along with any paper-backed fusible web
Apply Fusible Web to the Back of Leaf and Branch Fabrics
Using Steam-A-Seam 2, double-sided fusible-web, remove the printed release sheet and place the web, sticky-side down, on pattern for appliqué. Trace all the long leaves with a permanent marker onto the unprinted release sheet. Peel up and hand press onto the green fabric you have chosen to be the long leaves. Cut out pieces. You can reposition Steam-A-Seam 2 again and again to make the most efficient use of your fabric. (The same results can be accomplished with Sulky KK 2000 Temporary Spray Adhesive and any paper-backed fusible web.) Repeat step one for large leaves and branches.

Cut Animal Print and Netting
The animal! Choose the animal print (lion, tiger, bear, etc.) that you wish to feature on the garment. Since the nylon net will actally be placed on top of the tiger when it is applquéd to the garment, cut out all three at once... animal, Steam-A-Seam 2 and nylon net. Remove the printed release sheet from Steam-A-Seam 2 and place the sticky side against the back of the tiger. Peel away the plain release sheet and place a piece of nylon net (with metallic sparkles) against the sticky side. Cut out all 3 following the outline of the tiger (leave no seam allowance).

Prepare Garment
To simplify the appliqué process enormously, cut open the side seams of your pullover garment to create a relatively flat surface on which to work. Apply a moderately hot iron (NO STEAM) for several seconds to press two layers of Sulky Totally Stable to the wrong side of the front of the garment in all areas that you will be stitching. If Totally Stable works loose after lots of handling, just repress to restick it. You can save and reuse any excess Totally Stable which you tear away after you've finished stitching.

Placement
Peel the second release sheet from the branch pieces. Position branches using the placement diagram as a guide, or get creative and design your own placement which may be dictated by the size and type of garment you are using. Use more or less branches to accomplish the look you want for your unique original piece of wearable art. Remember: With Steam-A-Seam 2 or Sulky KK 2000, you can reposition the pieces again and again up until the time you fuse them in place with an iron.
If desired, remove the release sheet from all the pieces at this time and play with the layout until you're satisfied that this underlayer of branches is where you want it to be. The other pieces can be replaced onto a release sheet to save until you're ready to use them. Before fusing, try on your garment to be sure you are pleased with your layout and placement of pieces. Once satisfied, stem press them in place.

Thread Machine and set up for Blanket-Stitch Appliqué
Thread the bobbin with Sulky Invisible Thread (clear for light fabrics or smoke for darker fabrics). Because Sulky Invisible Thread is a lightweight polyester monofilament, it has a much greater tolerance to heat than nylon monofilament; perfect for projects requiring fusing or pressing with a hot iron. Thread the top with Sulky 30 wt. Dark Tawny Tan #1057. Loosen the top tension slightly.
Select the Blanket-Stitch if your machine has one. Other stitch choices would be an open zig-zag or blind hem (usually with invisible thread on top as well as in the bobbin).


Begin to Blanket Stitch
Blanket stitch around all of the branches. then place the one long leaf that extends above and below the animal and fuse it in place. Blanket stitch around the leaf with Sulky 30 wt. Dark Maple #1158.
Peel off the nylon net from the back of the tiger, then place the tiger over the leaf and fuse it in place. Place the nylon net over the tiger and straight stitch arund the outside edge with Sulky Smoke Invisible Thread on the top and in the bobbin. Thead the top with Sulky 30 wt. Black #1005, and blanket stitch around the animal. Position remaining leaves using the placement diagram, or create your own look; fuse them in place. Blanket Stitch using Sulky 30 wt. Dark Maple #1158.


Create Vein Lines in Leaves
Use a white chalk marker to draw vein lines in large leaves. Stitch vein lines using Sulky 30 wt. Dark Maple #1158 and a small satin stitch.

Embellish the Animal Print
Set up for Free-Motion:
Drop your Feed Dogs
Put on a Darning Foot
Straight Stitch Setting
Embellish your Animal by using Sulky Sliver Metallic Bronze #8006 to highlight eyes and whiskers, and Sulky Sliver Metallic Opalescent #8040 to highlight the white fur areas on the tiger.

Serge Side Seams
Serge or sew the side seams back up and, voila, you are done.
Some bugle and seed beads were sewn onto this sweater to dress it up a little. Have fun! It's your sweater; decorate it to your taste.
Your Recently Viewed Projects
Join our community of 5 million crafters!
Get free craft projects, exclusive partner offers, and more.
Thank You for Signing Up!
There was an issue signing you up. Please check your email address, and try again.