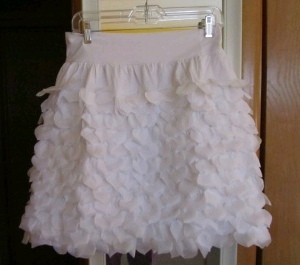 The best way to celebrate spring is by making a skirt that is inspired by a flower! The dollar store petal skirt can be made from an old t-shirt, some dollar store flower petals, and these free sewing patterns.
See this project and more on the blog!
Materials:
XL white T-shirt from Salvation Army
Rose petals from the dollar store
Sewing machine
Instructions:
First lay your T-shirt flat and cut off the bottom for your skirt piece. Cut a piece that's long enough to make a skirt. It's always a good idea to measure it against a skirt you already own that's a length you like. Your skirt piece will be a tube that already has a hem, so you hardly have any work to do!

Sew the petals onto the skirt piece. I just placed one petal at a time and sewed them in a straight line, one next to the other.

Keep sewing and sewing and sewing (and sewing) until the whole tube is covered with petals. I sewed the top row upside down and ironed them down, so that the stitching wouldn't show.

Next, make a waist band. So far almost everything I've made has used an elastic waistband, so I wanted to branch out (a little!) and try to make a waistband out of just T-shirt material. First, I measured a pair of my pants that have a similar waistband.

Next, cut more fabric from your thrifted T-shirt to use as your waistband. I made mine 6 inches wide (to ultimately make a 3 inch waistband). The length of your material is the length around your waist, or the length I measured from my gauchos!

Sew this fabric into a tube, then fold the tube in half over itself so that the wrong sides are facing each other.

Since my T-shirt was so large, my skirt piece was too big to fit around my waist, so I had to gather the top of it a bit. Sew a basting stitch all the way around the top of your skirt piece and pull the threads to gather it until the circumference of your skirt's waist is the same as your waistband piece.

Position your skirt piece inside of the waistband so that the raw sides of the waistband and the gathered edge of the skirt are together, and the top of the waistband is facing down. Pin the waistband to the skirt.


Sew around the top of your skirt to attach the waistband to the skirt piece. Then flip the waistband right side up, remove the basting stitch (if it's showing), and you're done!

And here are some more thrifty dollar store crafts:
Your Recently Viewed Projects