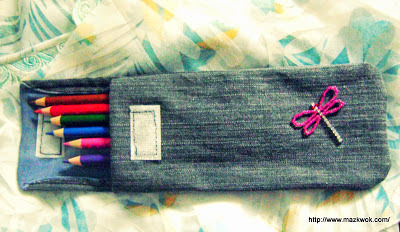 Rather than throwing away an old pair of jeans, save the fabric and use it to create an Old Jeans Pencil Case. This is a great item for back to school and doesn't take long to complete. Crafts with old jeans help you save on fabric and cut down on overall craft costs. All you need is a single pair of jeans too, so you can make a bunch if you plan to throw away an entire bag of clothes. Use Velcro to create a closure for your bag. Recycled craft ideas are great for the earth, so be sure to show off your inner earth goddess and make one right away.

Materials:
Cut-off old jeans part
Scissors
Sewing machine
Velcro tape
Measuring ruler
Tailor's chalk
Instructions:
Make 2 pieces like these.





After oversewing, face 2 right side up and sew the -them together. Turn over then sew parallel lines of the flap part.




Your Recently Viewed Projects