Festive Die-Cut Twine Leaves
If you're looking for fall craft ideas, why not try these Festive Die-Cut Twine Leaves by Keri Lee Sereika? Choose twine in various shades of orange, yellow, brown and red for a warm autumn palette. Then use your die-cut leaves to embellish cards or even decorate the table for Thanksgiving.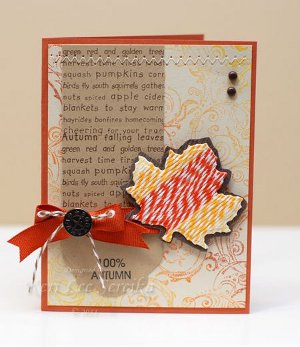 Materials:
Twine in assorted colors
Scor-Tape Sheets by Scor-Pal
Nested Maple Leaves Die by Spellbinders (or die of your choice) & die cut machine
Scrap cardstock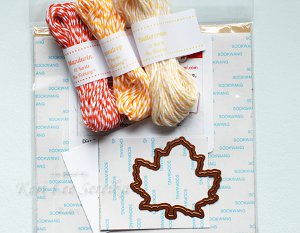 Instructions:
Cut the Scor-Tape just larger than needed for your die cut. Cut scrap cardstock just longer on one end. Here I have cut a piece 2.5" x 3.0", then cut the cardstock just .25" longer, 2.5"x3.25". Adhere the Scor-Tape to the cardstock and remove the top piece to reveal the tape.



Adhere the darkest color of twine on an angle almost in the center of the piece of tape-covered cardstock. Begin to wind it back and forth, pressing the twine firmly onto the adhesive as you go.



Repeat step 2 with additional colors going lighter as you reach the edges of the adhesive-covered cardstock. Be sure your die will fit on the twine-covered piece.



Run the piece through the die cut machine a few times, shimming if necessary to cut all the way through the twine-covered cardstock. GENTLY peel away die cut twine piece from die to reveal your custom embellishment!



Use finished piece on a fun fall project!


Your Recently Viewed Projects