This Artsy Rainbow Clock from I Love to Create is great if you need cool and artistic gifts for your fellow creative friends. Unique gift ideas like this make awesome home decor and include all the major colors, so it will fit in almost anyone's decor scheme!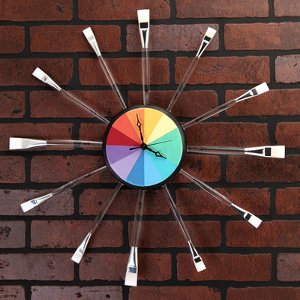 Materials:
Tulip® Fabric Paintbrushes™
Aleene's® Original Tacky Glue™
Pencil
Scissors
Ruler
Drill
Sand paper
Cardstock – 12 colors – shades of red, orange, yellow, green, blue and purple
Protractor
Spray paint – black
Clock Works Kit
Round wood plaque
Instructions:
Drill 12 equidistant holes along outer edge of plaque, making holes approximately 3/4" to 1" deep.

Drill a hole in center of plaque, sized to fit Clock Works Kit. Sand to smooth.

Spray paint plaque with black and let dry.

Use a pencil and protractor to measure and create a 30-degree angle wedge from each color of cardstock to fit around face of clock. Cut out.

Lightly sand bottom end of paintbrush handles to create a rough surface to help with gripping when apply glue.

Squeeze some Original Tacky Glue in holes around outer edge of plaque and insert sanded paintbrush ends into each hole. Let dry.

Adhere cardstock wedges in color order onto plaque with a thin layer of Original Tacky Glue. Refer to photo. Let dry.

Assemble Clock Works Kit as directed by packaging.
Your Recently Viewed Projects