For a unique Valentine's Day present at little cost, make a Candy Bouquet with these instructions from Terri O. A painted clay pot would make a great base for this bouquet. You can make these bouquets for other occasions too.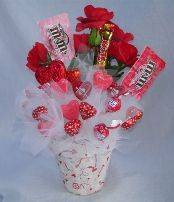 Materials:
Container for bouquet
Rocks for the bottom (so it doesn't tip over)
Floral foam or Styrofoam
Skewers
Floral tape
Glue gun
Seasonal candy
Tulle
Ribbon

Instructions:
Glue your candy to the skewer or insert the skewer into your candy.

Cut 4 x 4 squares of the tulle. Use two pieces on top of each other and from the center grab the tulle to make a flower. Using the floral tape secure the tulle to the skewer. Make your skewers different lengths to get different heights. You will need quite a few. These are for filler.

Place something heavy like clean rocks at the bottom of your container. Place Styrofoam or floral foam over the rocks and secure with glue gun.

Begin in the back center of the Styrofoam with your tallest piece. Create and triangle shape. In other words, as you get near the edge of your pot use shorter skewers. Use as much candy as you like. Fill the rest of the spaces in between with your tulle.

You can use just about anything to fill in the spaces. Try using cellophane or even confetti paper. Get creative with the event and use candy or paper that reflects your theme. Have fun!
Your Recently Viewed Projects