Need some easy Valentine's Day crafts? This Kids Valentine Frame makes the perfect Valentine gift for parents, grandparents, or siblings! Gather your little love bugs and make this cute Valentine frame for anyone!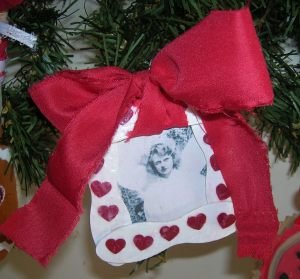 Materials:
4" X 6" photo
4 ice cream sticks
4" X 4" piece of red cardstock & scraps
Torn fabric strip (about 14")
Hanger or magnet
Mod Podge
1/2-inch heart punch
Scissors
Glue stick
White glue

Instructions:
Glue four ice cream sticks together in a square frame shape.

Allow to dry then paint the frame white. You could also pre-paint the ice cream sticks before gluing.

After the frame dries glue 1/2-inch heart punches (or let the kids draw on hearts) to it with Mod Podge.

Then apply a coat of Mod Podge to the whole frame.

After it dries wrap a torn fabric strip several times around the top of the frame and tie a bow. Leave it loose enough to be able to insert a hanger if desired.

Carefully cut a photo (or a copy) to fit the frame. Place the photo flat on the table then place the frame on top of the photo. Move the frame around until you have the area of the photo you want displayed showing within the frame. Mark the photo with a pen. Cut the photo to fit the frame. It needs to extend over to the sticks. It will measure about 2-½" X 2-½".

Cut a 2-½" X 2-½" back for the frame from cardstock. Glue the photo to the cardstock with a glue stick. "Journal" pertinent information on the back (who, what, where, when, etc.).

Glue both to the frame with white glue with the photo facing up.

When dry insert hanger or glue magnet to back of frame.
Your Recently Viewed Projects