"Cheap and Easy Crafts" Free eBook
Cheap and Easy Crafts Free eBook
Find a wide array of fun and easy crafts in this free eBook!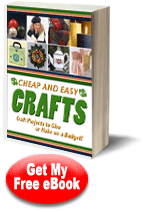 We know how hard it can be to find a good craft on a low budget. That's why we gathered up the wonderfully simple and thrifty crafts in this special eBook.

In this eBook, you'll find amazing projects for candles and soap, crafting with kids, crochet patterns, craft gifts, recycled crafts, home decor, papier mache crafts, holiday crafts, Halloween crafts, knitting patterns, painting projects, organization, scrapbook pages, sewing projects, Thanksgiving crafts, unexpected craft ideas, Valentine's Day crafts, wearable crafts, wedding crafts, and woodcrafts.

The projects in Cheap and Easy Crafts cover a wide range of crafting mediums, so there's bound to be something for everyone. Check out this FREE Cheap and Easy Crafts ebook for all your affordable crafting needs. In this ebook you will find tips on creating quick and easy crafts.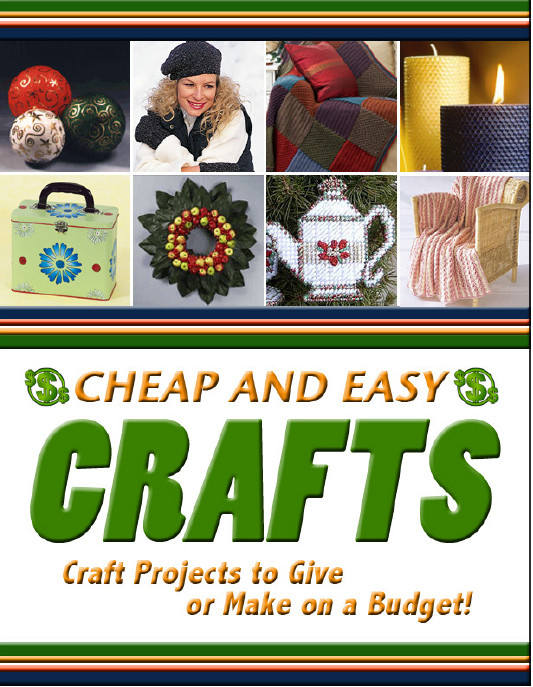 Cheap and Easy Crafts Table of Contents
Dear Reader,
If you are on a craft budget (and who isn't in the current economy?), have a look at this collection of 60 low-cost craft projects, sorted into categories such as needle craft, home decor, crafts for kids and more. We want you to know you can still enjoy your favorite hobbies without spending a lot of cash. With a few craft projects from our free downloadable eBook, Cheap and Easy Crafts, you will have thrifty gifts for every occasion.
You can find more cheap craft projects, great activities for kids and extensive decorating ideas at www.FaveCrafts.com.
Our eBooks, like all our craft projects, are absolutely FREE to members of our crafting community. Please feel free to share with family and friends and ask them to sign up at our website for our free email newsletter.
We hope you enjoy reading and creating!

Sincerely,



The Editors of FaveCrafts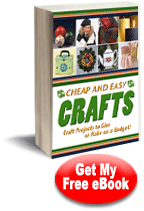 Easter Egg Mobile (pg. 10) - This wonderful project to do with kids this Easter comes to us from the ever-creative Mama King of 4 Crazy Kings. Have the kids decorate egg shapes cut from clear contact paper to create Easter mobiles that let the sun shine through. Use whatever collage materials you have on hand such as sequins, glitter, paint and more.

Recycled Crayons (pg. 12) - This great, guest tutorial for how to recycle crayon bits into new crayons comes to us compliments of Sara of Kitty Baby Love. You can also find the little, kitty-shaped crayons (perfect for child-sized hands) for sale in her Etsy shop.

Scrap Yarn Crochet Slippers (pg. 16) - These easy slippers, perfect for beginners are very warm and very comfortable. I've been making them for years, and have many family and friends that request a pair at least once a year if not more. These slippers can be made so that they cover only the ankle or past the knee and any length between. Senior citizens like the warm up to just below their knees.
Arrow Stitch Crochet Afghan (pg. 19) - The simple arrow stitch in the crochet afghan pattern creates a lovely addition to any home. The rose and natural yarns in this afghan create a lovely palate of colors, but you can use any worsted weight yarn.

Recycled CD Letter Holder for Mom (pg. 21) - Help Mom stay organized with a personalized recycled mail station - showcase her favorite flowers and reuse an old CD. This project makes for a great mother's day gift or birthday present for a mom or another busy lady in your life.

"Quilted" Christmas Treat Jar (pg. 23) - Decorate a simple mason jar for those special Christmas treats. This quick and easy project will make your canned gifts look even more beautiful this holiday season.
10 Things to Do With Old Wine Bottles (pg. 26) - Instead of tossing those old wine bottles, use them in a variety of wine bottle craft projects. You can create lamps, decorative vases and hurricanes from old wine bottles and they make great gifts. Don't forget to save the corks to create a homemade cork board.

Modern Wall Art (pg. 40) - All you need to make your own modern wall art are a few sheets of STYROFOAM™ Brand Foam and your favorite patterned scrapbook paper. You can mix and match whatever patterns and paper designs you like, your guests will be shocked that this project was so easy!

Painted Easter Egg Chick (pg. 42) - For a cute variation on traditional painted Easter eggs, paint one to look like a little baby chick with a bit of glitter.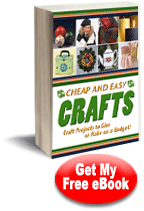 You can easily download and print out each book for on-hand reference while crafting.
For help downloading our eBooks, check out the FAQ here: How to Download our eBooks.
Be sure to check out our entire collection of eBooks. You'll find titles such as:
With your free copy of Cheap and Easy Crafts, you can also subscribe to our Quick and Crafty newsletter to become part of the FaveCrafts community. In subscribing to the newsletter, you will receive:
Daily e-mails emails with free crafting patterns, tips, collection pages, videos and more + a weekly wrap-up.
Chances to win books and products from our weekly giveaways and contests.
New FREE patterns and eBooks made available to you throughout the year.
Access to our free pattern library full of over 1,000 of free crafting patterns.
The opportunity to share ideas and help others in the crafting community.
Filled with lots of great projects for crafters of all mediums, this free eBook is a great way to expand your crafting skills and fuel your creativity. With lots of great projects that are both simple and fun, Cheap and Easy Crafts is sure to keep you busy the whole year through!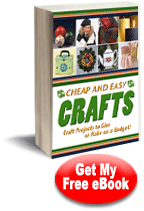 Your Recently Viewed Projects