DIY Low-Profile Drawer For Easy Storage
Reuse cardboard boxes for storage that is both simple and cheap.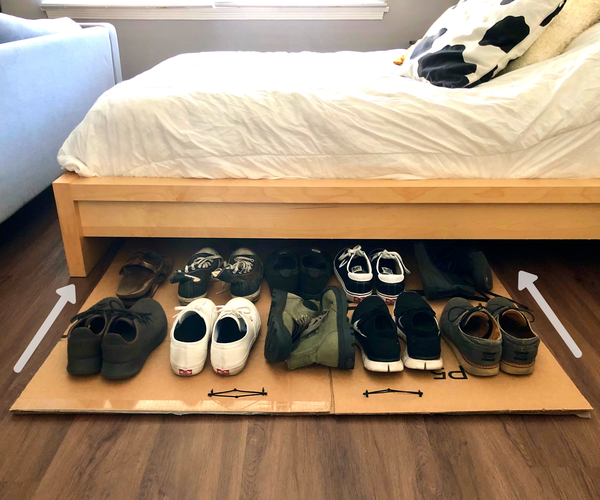 DIY Low-Profile Drawer For Easy Storage
From the blogger: "Ok I know, this is super basic. But it's honestly been super awesome for me so I wanted to share! My bed is super low so it makes it hard to store things under there. It was just wasted space for me which was frustrating especially because I live in a studio. But after one fateful Amazon delivery, the idea struck me: Use the cardboard as a low profile drawer slide! Honestly, you can just lay down a sheet of cardboard and call it a day. But this will walk you through how to add handles and some extra stuff to make it slide easier."
Time to CompleteUnder an hour
Main MaterialRecycled Materials

Materials List
Large cardboard sheet or box
Furniture Sliders
Zip ties
Drawer handle, rope, or more zip ties!
Instructions
ATTACH THE FURNITURE SLIDERS. I had self sticking furniture sliders so I put one on each corner. It'd probably work better with a few more in the middle but the four worked well enough.

MAKE THE HANDLES. There's probably 100 ways to attach and make handles for this but I used zip ties because that's what I had at home and I'm self-isolating so I didn't want to run to the store. I'm going to try to explain this but it might be easier to just follow along with the photos.

Poke or drill your holes
Push a small zip tie up through the first hole
Push another small zip tie down through the second hole
Push the first zip tie into the second zip tie
Underneath, add a zip tie to the second zip tie sticking through
Clip the extra zip tie length off the bottom ones underneath
Repeat steps 1-6 about 4 or 5 inches to the right
String a handle through the zip ties. A rope or something would be nice. But again, I only had these small zip ties on hand and I am self-isolating.
Repeat steps 1-8 if you want a second handle.

STORE YOUR STUFF & STASH IT AWAY! I'm storing all of my shoes on here because it's super easy to get to them and see all of them at a glance.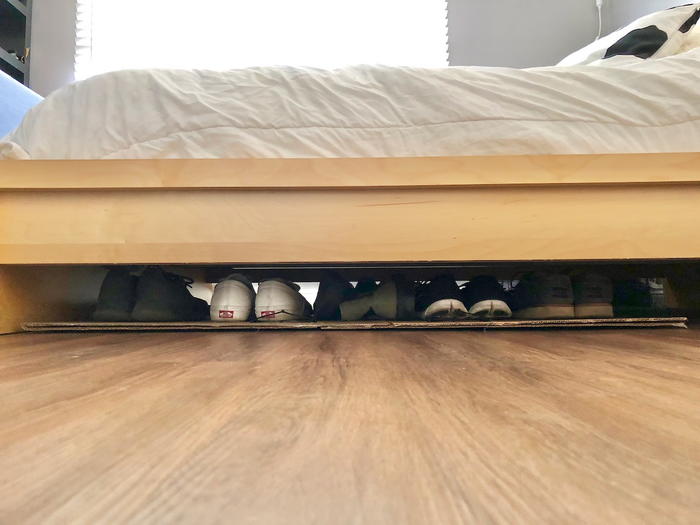 Your Recently Viewed Projects