Always in Bloom Fabric Flowers
Always in Bloom Fabric Flowers from Heather Valentine are an excellent way to embrace spring crafts. Everything about this spring craft celebrates the season. From the recycled clothing used in this craft to the final, flowery product at the end, this is indisputably a seasonal project. Make fabric flowers that look almost as adorable as the real ones. You might consider gifting these fabric flowers to an allergic friend. Use whatever excuse you need to make these blossoms.
Materials:
Outgrown clothing
Spray starch
Twigs/branches
Hot glue gun
Sewing machine or needle & thread
Instructions:
To create your flower, cut clothing into 14″ strips long x 4″ wide; spray with spray starch and iron for added stiffness. Fold strip in half to create a 2″ wide strip by 14″ long.

Straight stitch along the folded edge. *Note: this step can be done by hand or machine, consider using a contrast color thread.

With a long basting straight stitch; start at the folded edge; stitch along the length of strip edge, curving back to end at the corner. You will notice that it creates a half a half-moon shape. Leave the threads long at each end. Trim excess fabric away. Pull the top thread of your basting stitch to create gathers.

Apply hot glue to the top of your twig and attach your flower fabric. Twist and turn the twig applying glue as needed. Tuck the tail of flower at the base of bud/twig.

If you with like to attach a leave, cut a leave shape on fold; glue in place, wrapping around the twig.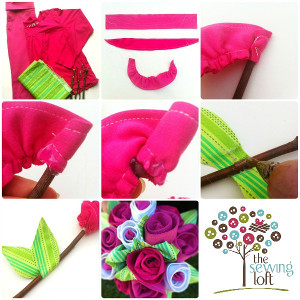 Your Recently Viewed Projects