Felted Mini Handbag
Choose autumn colors to make this trendy mini bag perfect for cool nights out on the town or day-trips to the store.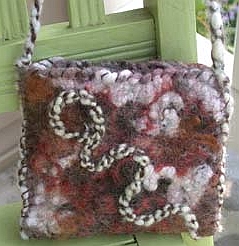 Materials:
Bag:
Carded wool (color optional)
Curly merino locks, dyed gold and brown white & copper silk wool yarn (rust colored)
Large piece of plain fabric (like muslin)
Safety pins
Strap:
Two shades of wool yarn cording drill & weight 1 spool of Serica, 7136 Dark Mocha Needle
Instructions:
Begin by laying out your fabric on your work surface. Your fabric piece should be big enough to fold in half around your "batt" (the flat layer of wool that will serve as your felt base) like an envelope, and extend past the edges as well. Keep in mind that your finished felt piece will be about 2/3 of the size of your unfelted fibers, so for a 5" x 5" finished bag, you will need to start with an 8"x 15" batt of wool and an 18" x 17" piece of fabric.

Begin laying down horizontal strips of roving as your base. Pull a piece of roving the length you want (about 15") and use your fingers to gently tug the fibers, widening the piece of roving until you can see through it. Lay it down on the bottom half of your fabric. Pull another piece and do the same, laying it down parallel to your first piece so that they overlap slightly. Continue until you have your first 8" x 15" layer.

Next, create your second layer of wool. This layer should be 8" strips of roving, laid down vertically (perpendicular to the direction of the first layer.) This will make your felt piece sturdy like fabric. When that layer is finished, create a third layer of fibers running horizontally again (like your first layer.) Once you have finished your third layer, you are ready to create your design.

Using your Merino locks, silk, and bits of yarn, create a design on top of your layered batts. The silk can be spread out like your wool roving, or made into small puffs like cotton for dots or circles. You can overlap your yarn with other things (like the locks or silk) for a dimensional effect. When finished arranging your design, add a VERY thin layer of wool over the top (so thin you can barely see it) to help hold everything in place.

Fold your fabric over your design. Using the safety pins, begin pinning through the "sandwich" of fabric and design, starting in the middle. Make sure your pins go all the way through! Continue pinning, adding a pin every 2" or so, all the way out to the edges. Fold the extra fabric over at the edges and pin them. Your design is now ready to be felted.

Before you get started with felting however, you need to make the strap for your bag. Decide how long you want the strap to be, then multiply that by four. Cut two pieces of wool yarn to that length and tie them together at each end. Pin one end to something heavy (or have a friend hold it) and loop the other end around the hook on your cording drill. Follow the drill's instructions to make your cord. Tie the ends together when finished.

You're ready to begin felting! Place your cord and your bag design in the sink. Wearing a pair of rubber gloves to protect your hands, begin soaking your projects in alternating hot and cold water. First run the hot water over them, as hot as you can stand, and then switch to cold while gently wringing and kneading the pieces with your fingers. (Be careful of the pins!) This agitation and the shock of alternating temperatures is what causes the fibers to felt. Continue this process for about 5-10 minutes, long enough for your design to begin to interlock. Then, place your design and cord in your washing machine on the gentle cycle with a little gentle detergent (like Woolite). You can then throw the pieces into the dryer as well, or air dry them.

Remove the pins from your design- you now have a large piece of felt from which to make your bag! Fold the piece in half. Lay your corded strap down around the bag so the strap is the length you want. (The excess cord will be stitched down the sides of your bag and the remainder can be couched onto the surface of the bag (as we did) or trimmed off.) Tie a knot (for reference) in each end of the cord where it will meet the bottom corner of your bag. If you want to couch the remaining ends onto your bag, do that now before you sew up the sides.

Begin sewing the sides of your bag. Using a needle and thread (we used Silk Serica), stitch along each side of your bag, sewing around and through the cord as you go to hold it in place. Your bag is now finished!

Your Recently Viewed Projects
Join our community of 5 million crafters!
Get free craft projects, exclusive partner offers, and more.
Thank You for Signing Up!
There was an issue signing you up. Please check your email address, and try again.