Fold Up Beach Towel Bag Free Sewing Pattern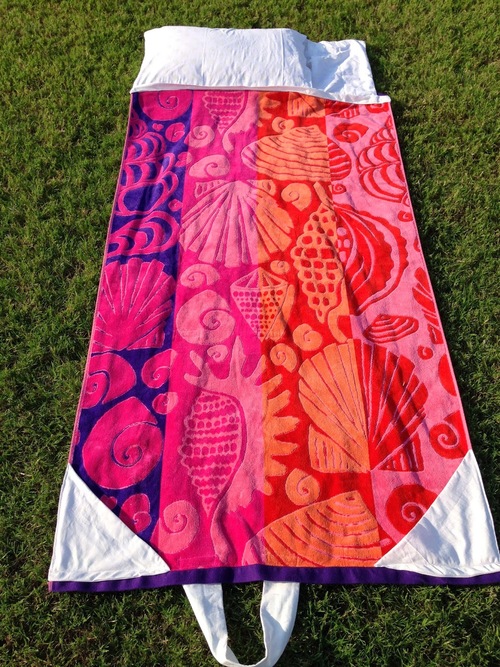 With this Fold Up Beach Towel Bag Free Sewing Pattern, you can carry your essentials anywhere you want. This is one of those great spring or summer craft projects that makes you excited for warmer weather. You don't have to splurge on fabric, either. Use an old beach towel and a sewing machine to get started on this project, and watch as a simple piece of materials transforms into a stylish bag. Whether you're heading to the beach or just want to lay out on the grass, you can easily carry your bag, a book and any other essentials.
Difficulty LevelIntermediate
Materials:
Sewing machine
Scissors
XL beach towel
Old pillow
2 yards of fabric that matches your beach towel
Instructions:
PILLOWCASE
Sew your standard-sized pillow case first, it will be the cornerstone piece in making sure everything else comes together the right way. After you cut out your pattern and pin it all together (pattern sides touching each other and back sides seen), make sure you've made the pattern big enough for the old pillow you'll be upcycling. Then choose whichever sturdy stitch you'd like, and sew.
I chose to make a pillowcase that would be protected from blowing sand, and be able to let me remove the pillow whenever need be without having to damage or wash the rest of the beach towel bag. You can see the layering in the pinned pattern below. After sewing, grab your old pillow and tuck in the case to make sure it fits correctly.

PROTECTIVE STORAGE POCKET
Aka my hiding pocket. I dread leaving my keys, sunglasses, or anything laying underneath just a towel or a bag while I'm laying down or beachcombing. Anyone could just walk by and see everything I have. Not with this protective storage pocket! It's right next to my head :) It's purpose is to get your items out of plain view. You could go as far as even adding a zipper, but I didn't know how to make that sewn in, so there's definitely room for improvement here. Also, because I'm a novice at this custom sewing pattern thing, I had no choice but to add-on the pocket to the pillowcase since I didn't know how to sew it all together in a single pattern. So all you professional sewers can probably figure that out.
Once you have your pattern cut and pinned, sew it together, then attach to the completed pillowcase where it needs to be sewn as one piece. You'll be able to see the pillowcase's protective fabric side better in the photo below. After sewing both pieces together, grab your old pillow and tuck it inside the pillowcase again to make sure everything still fits the right way.

CONNECTING TO THE BEACH TOWEL
This part was actually the hardest part for me. I wanted to merge the pillowcase and protective storage pocket into the beach towel as easily as possible - but didn't want it to look cheap. So I decided to fold a line of fabric and attach it to both the towel and the pillowcase at the same time. I had to keep in mind that I wasn't going to be working with a strong needle, so the thickness couldn't be too much or else I'd risk breaking my needle as I sewed along. I made a point to stay at least 1'' away from the end of the beach towel where the hardest and thickest part of the fabric started... well I ended up bending my needle anyways as I was sewing along :( Luckily I had a replacement for backup!! Had a little hiccup in the sewing process, but it turned out fine. After sewing, I again checked that the old pillow would fit inside the pillowcase ok.

HANDLES
Super important that you take the time to place your bag handles correctly or else everything will be off balance and out of place. You need two handles sewed at the same thickness and size. One will be on the backside of the beach towel in the middle, and the other will be on the backside at the very bottom.
Fold the top pillow section down about four times (depends on your towel size) and you should be around the area you need to pin your first handle to. Once you figure that placement out, you can align the handle at the bottom of the beach towel to fit the same length. Pin the handles to the towel and sew them sturdy enough to hold at least 2-3 pounds worth of fabric and towel. These handles need to be able to stay put.

HOLDER FOR SUNGLASSES & FLIP FLOPS
Now you're at the fun part. Never crush your sunglasses or fill your flip flops with sand again!! Inside the protective storage pocket I decided to add-on a holder for sunglasses or keys so that they would stay put in one place. I also sewed at the bottom of each beach towel corner pockets to keep flip flops in to hold down the towel when it's put on the sand. You could also keep suntan lotion bottles, goggles, or shells that you find combing the shoreline.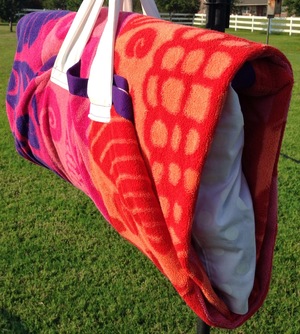 Your Recently Viewed Projects
Join our community of 5 million crafters!
Get free craft projects, exclusive partner offers, and more.
Thank You for Signing Up!
There was an issue signing you up. Please check your email address, and try again.