These rainbow crayons make easy crafts for kids to help with. Just melt down some of your old, stubby crayons, and the result will be beautiful rainbow crayons!
Find this and other Rainbow Crafts at "14 Simple DIY Rainbow Crafts for Springtime"!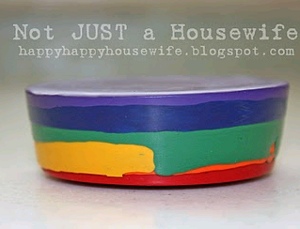 Materials:
A bowl of water
Plastic cups that you can throw away
A microwave
Old crayons
Instructions:
Put the crayons (according to color) into the cups. I cut the tops of the cups off to make it easier to pour out the melted wax. Place one of the cups into the bowl and microwave it for a few minutes. Take it out and swish it around. You may need a couple more minutes depending on your microwave and how many crayons you put in the cup.



Then pour the melted wax into a muffin pan. I have always used my silicone one for this project but made one in a metal one today to see if it would work too. Just to be safe, I lightly greased it. It worked great.



And there you have it! When each layer cools, it contracts and pulls away from the sides a little so the crayon layers can bleed a little. But it is thin and after a couple of uses it wears off.



This project it great for 2-5 year olds. You can talk about sorting, learn colors, and then color when your done! And the crayon is big and easy for little kids to handle. It would make a fun homemade gift too.

Your Recently Viewed Projects