DecoArt MEDIA Paint
Gifted by DecoArt
www.decoart.com
Reviewed by Jennifer Priest for FaveCrafts.com
I recently received an assortment of paint, sprays, and mixed media art supplies from DecoArt. I'd heard about their new Media line and briefly saw it in action at the CHA Paper Arts Show in Atlanta this July. With so many art supplies available, it might not seem to make sense for a craft paint company like DecoArt to enter that market. Considering the number of crafters who are venturing into art journaling, mixed media, and even portrait painting, DecoArt's Media line provides a great crossover from "craft" to "art". I know first hand how intimidating it can be going into an art store for the first time and not knowing what to look for. From afar, I looked at the DecoArt Media line as an entry point into the art world - a crafty-friendly entry point.
After working with the line, I realized that some of the DecoArt products performed better or at par with the "art store" media I usually use. That was totally unexpected! Here are the products that I tested and used:
DecoArt Media Gesso. This was the dreamiest, creamiest gesso I've ever used! The gesso was thick and easy to use and provided excellent coverage on canvas, chipboard, and anything else I applied it to.
DecoArt Media Soft-Touch Varnish. This varnish glides on and gives a very nice shiny finish. I usually use a spray clear coat but this worked much better to seal the image and to dry fairly flat. Some brush strokes show in the varnish finish if using a bristle brush.
DecoArt Media Crackle Paste. This was one of my favorite products. Even when applied to a stencil with a detailed image, the paste crackled once dried. This product would be a great addition to any mixed media artist's media collection!
DecoArt Media Matte Medium. This Matte Medium is comparable to other matte media on the market and can be used to make acrylic paints more translucent or as a decoupage medium.
DecoArt Media Texture Sand Paste. This paste gives a sandy finish and can be used with stencils to create a raised design, like molding paste. DecoArt's Fluid Acrylics can be used to color the Texture Sand Paste, but I found that the color was mottled as some elements in the paste really absorbed the color and others were more pastel in color.
To show the effects of each of these products in more detail, I applied them to a piece of chipboard: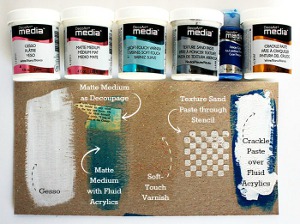 The gesso covered the chipboard fairly well with a paintbrush. I used the Matte Medium to dilute some of the Fluid Acrylics and then to also decoupage a piece of book paper to the chipboard. The matte medium dries completely and does not have a sticky finish like some decoupage mediums, making it a great medium for mixed media pieces. It's difficult to see the Soft-Finish varnish on the chipboard and that's a good thing - the varnish can go over most surfaces to protect them without darkening them. I used a palette knife to apply Texture Sand through a stencil and let it dry overnight. The effect is a gritty, raised finish. Finally, I painted a layer of Fluid Acrylics onto the chipboard and let it dry and then added a layer of Crackle Paste over top. I used the same color of Fluid Acrylics with the Matte Medium as with the Crackle Paste.
In addition to the "pots" of media, I was also sent some smaller paint bottles of media:
DecoArt Media Fluid Acrylics. These are bottles of acrylic paint, however, they have a more fluid consistency than typical acrylic craft paint. Because of the watery characteristics of this paint, I was concerned that it would not cover surfaces well when painted. I was very surprised to see that an opaque effect was achievable on chipboard after just one coat of this paint! The consistency of the paint makes it very easy to use yet it is very pigmented so it covers surfaces easily and with one application. It has an almost semi-gloss finish when dried.
DecoArt Media Fluid Acrylics - Interference. These are professional grade, translucent colors that change in appearance based on angles. Paint it over the top of your project to achieve an iridescent effect in whatever color of "Interference" you've selected. The finish is glossy and shimmery when dried.
DecoArt Media Antiquing Cream. This cream is great for aging projects. I especially enjoyed the effect over top of dried DecoArt Crackle Paste, as the Antiquing Cream brought out the cracks by highlighting them with color. The paste has a matte finish, almost chalky, when dried.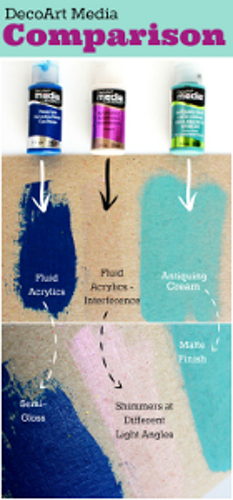 The final products in the DecoArt Media line that I used were the Misters. The Misters are a spray medium available in both matte or with shimmer. The Misters and Shimmer Misters worked beautifully to add splatter effects and spray effects to mixed media projects on their own or with a stencil. The sprayer can be removed and the Misters can be applied with a paintbrush or by flicking the straw end of the sprayer. The Misters are opaque when dried but can be blotted with a towel before drying completely for a more translucent finish.
After trying these products, I am definitely adding the DecoArt Media line to my studio staples! I was most impressed with the DecoArt Media Crackle Paste, Gesso, and the Fluid Acrylics. I don't see myself using the Texture Sand Paste often because I did not like how it reacted when color was added and I am not a big fan of the gritty texture, however, the paste did perform as expected and was easy to use.
Whether you're looking to get started in mixed media or you're a seasoned artist looking for new media to try, the DecoArt Media line deserves a serious look! The products are priced competitively and come in 1 fl. ounce to 4 fl. ounce containers, making them easy to invest in for the new mixed media artist.
Your Recently Viewed Projects