How to Print Coloring Book Pages
Learn how to print out any adult coloring book page you can find.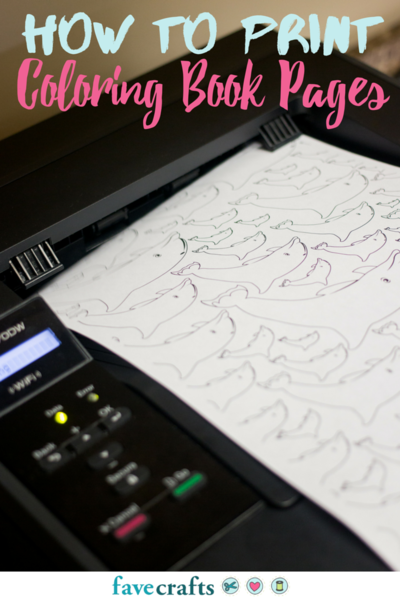 How to Print Coloring Book Pages
The coloring book pages available on FaveCrafts.com and across the web are a fantastic way to insert some low-effort creativity in your day. Over the last year or so, the popularity of these paper crafts has soared to new heights. The problem is sometimes figuring out How to Print Coloring Pages can be tough, especially if they come in a strange format. That is why we have created this helpful how-to.
Free coloring book pages are all the rage. You no longer have to head to the store to purchase adult coloring book pages. The internet offers hundreds of free coloring sheets to download. From marvelous mandalas to animal-themed coloring pages, these free printables are an essential crafting experience for creative types these days.
Not only do these free coloring sheets allow you to get creative, shading in these pages is said to have stress-busting capabilities. That means you can have fun and boost your mental health at the same time! Follow the tips below for how to print these coloring cuties to begin your coloring journey.
If you are trying out adult coloring pages to try and reduce stress, check out our tips on how to create the perfect, relaxing experience while coloring:Coloring Therapy: Scribble Stress Away
What Paper to Use
Figuring out how to print coloring book pages is one thing, but one of the hardest parts is knowing what kind of paper to use when printing these pages. Some computer paper, for example, can be far too thin or too slippery for your favorite coloring utensils. Check out these tips on how to print coloring sheets and what paper to use.
If you are printing simple coloring pages that you will not be using in another crafting capacity, medium-weight computer paper will work just fine.

When it comes to the finish of your paper, you will want to use a matte finish. Glossy paper (used for printing color photos) will be too slippery, especially if you are using markers.

If you are looking to create a long-standing DIY craft to add to cards, other paper crafts, or even decoupage craft ideas, use a thicker paper like cardstock.

Looking to save money? Consider printing your coloring pages on the blank side of other pages such as printed out recipes, agendas, or other documents that you do not need anymore. Just make sure the paper is thick enough and the info is not confidential.
How to Print Coloring Book Pages – PDFs
Some of the best coloring book pages are in PDF format. This is especially helpful, because the settings in Adobe make it pretty easy to download and print coloring pages. These instructions for print PDF files can be found in our 7 Adult Coloring Pages eBook, as well.
Click the download button to download the PDF of the eBook.

When the dialog box appears, choose "desktop" as the location for the download.

After the eBook downloads, double click the icon of it on your desktop.

The dialog box will ask you which pages you want to print. Select "All" to print out the whole book, or enter a page range to print part of the book (e.g. 3-7).

Click print, and then gather your printed pages and have fun!
How to Print Coloring Book Pages – Image Files
Sometimes, the coloring book pages you find online are simply an image file that is provided. This can make it especially difficult to download and print these pages as it can often be unclear how big these pages will be. This is why you will want to move that coloring book page into a word doc. 
You can either download and insert the image into a word doc or copy and paste the project.
To copy and paste a coloring book page image into word, pen a word doc. 

Open the image on the provided site, right click with your mouse, and hit "Copy this Image" in your browser. The image below features the Mandala Turtle Coloring Page from Hattifant.com.

Paste the image into word by right-clicking there and selecting paste. You can also hit CTRL and the letter V at the same time to do.
 

If your image is large enough, you can go ahead and move onto File >> Print. 

If you image is not large enough to fit the page, click the corner of the image and drag it to your preferred size before going to File>>Print.
Find even more free coloring sheets to shade in when you check out our collection of relaxing mandalas:
Are you all for the coloring book craze or do you just wish it would go away?
Your Recently Viewed Projects
Join our community of 5 million crafters!
Get free craft projects, exclusive partner offers, and more.
Thank You for Signing Up!
There was an issue signing you up. Please check your email address, and try again.