Quilted CD Ornaments
Here's another idea for using up old CDs! Make these quilted CD ornaments to hang on your tree with these Christmas craft patterns and no one will ever know you have CDs hanging from your branches.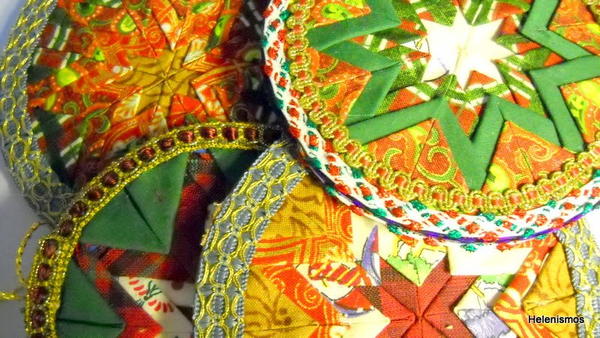 Materials:
4 different types of fabric: 8 2" squares of Xmas print/color (first row); 16 2" squares of different Xmas print/color (second row); 16 2" squares of another different Xmas print/color (third row); 16 2" squares of yet another different print/color (fourth row).
Old CD
Tacky Glue
Metallic Christmas trim
String
Pins
Instructions:
Get one 2" square from the first row of print/color right side down, and fold in half, pressing with your finger nail, like this:



Then in half again, like this:



Open it up, and then fold one of the sides to the median crease, to create a triangle, like this:



And then do the same for the other side, like this:



You'll have one bigger triangle formed by two small triangles. Now it's time to apply some glue. Open up the folded triangle and apply a little bit of glue; like this:



Fold it back and press with your fingers.



You are now ready to start the quilting on your Cd. Turn the already glued triangle face down and apply a bit of glue on the back, like this:



Glued it with the point facing the center of the Cd, like this:



Repeat the procedure for the remaining 3 squares of the first print/color, like this:



Now the first row is completed. You are now going to fold the eight 2" squares for the second row the exact same way, and repeat the same procedures, like this:



Try to align the central fold of the triangles in every row.





You can already see the first star showing. Repeat the same thing for the third



and for the fourth rows.



And now you see the four stars.

You have one side of the Cd almost finished. Turn it around, and repeat everything the same way for the other side.





Your quilted Cd Xmas ornament is almost done, but not completely. Now is time to hide the messy parts and make it look really pretty! Start by trimming any bit of fabric that might be hanging out the Cd borders. Then apply some glue all around the edge.



Start by gluing the string and then the trim, covered by the trim, like this:




Secure with pins till is totally dried and secure.



Once it's dried, do the other side. Let it dry.



Your Recently Viewed Projects
Join our community of 5 million crafters!
Get free craft projects, exclusive partner offers, and more.
Thank You for Signing Up!
There was an issue signing you up. Please check your email address, and try again.