Use some old denim to create a fun flower brooch for Mother's Day. Attach to a pin back to make a brooch. This denim flower from Terry Ricioli would look great attached to a straw bag for summer. This free sewing pattern shows you how to transform old jeans into brand new sewing projects. Perfect for adding to DIY tote bags or other crafts that could use a floral hint, this Denim Flower Brooch is easy to make and will barely cost you a time. Upcycled and unique, this pattern will help you update your wardrobe in under an hour.
---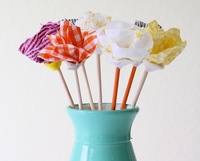 For more beautiful handmade flower projects and how to sew a flower tutorials, check out our collection of 81+ Printable Flower Patterns.
---

Materials:
Old denim, 3" by 8" piece
Bottle Cap Pendant (PN-186)
Sandpaper
Glue (G-S Hypo Cement used in sample)
Old metal buttons, ¾" and ½"
Instructions:
Cut two 3" circles and one 2" circle. These do not have to be perfect circles. Cut four petals in the large circles by cutting into the circle leaving the center together. Shape petals. Make each one a little different than the others. On the small circle, make 1" deep cuts around the circle creating fringe with varying widths.

Sand the edges of the flowers with sandpaper to fray and distress them.

Glue one large flower into the pendant pressing it into the pendant to shape the flower allowing petals to overlap. Glue second large flower center over the first with the petals placed in the gaps of the first flower's petals. Place fringed small circle into the center rolling it to fit and allow the fringe to overlap.

Stack the buttons and glue into the center of the flower. Push buttons down into the pendant and hold until glue sets.

To wear as a pendant, add a chain or leather cord. To wear as a pin, glue a pin back to the back of the pendant with metal glue.
A note for using this project with children: To modify this project for children, use a plastic cap from a milk carton, paper or lighter cloth for the flowers, bright buttons and an adhesive-backed pin.
Your Recently Viewed Projects