Autumn Mixed Media Canvas
Create your own fall decorations this season. An Autumn Mixed Media Canvas from Linda Peterson is an artistic way to express yourself. Use a variety of crafty materials to create a piece that really represents your point of view.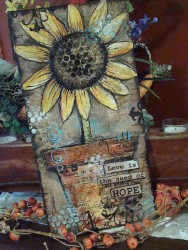 Materials:
Canvas 12 x 24
Music sheet
Handwriting sheet
Collage medium
Sponge brushes
Paint in colors of choice – we used a brick red, turquoise, burnt umber, sand, white and black, sunflower yellow
Distress inks in greens and browns
Newspaper
Words or phrase of choice
Bottle caps – anything to create a circle texture – optional
Foam stamps –optional
Charcoal pencil
Instructions:
Cut out strips of newsprint and decoupage onto canvas. Allow to dry.



Apply a light wash of white paint randomly over surface.



Apply desired paint color to bubble wrap or plastic wrap and stamp onto surface to begin the layered textural effect. Repeat until you have a pleasing background. Allow to dry.



Cut out sunflower and pot pattern from handwriting and music papers and decoupage to background.



Paint over sunflower with yellow – leaving some of the writing to show through.

Paint pot using the same technique.



Outline with charcoal pencil to give added depth.



Finish by applying any additional textural effects or phrases as desired. Apply finish coat of decoupage medium over surface and allow to dry completely.



For a comprehensive video tutorial, check out How to Make a Sunflower Collage Mixed Media Canvas.
Your Recently Viewed Projects