Fun n' Colorful Glass Canisters
Liven up your pantry or kitchen with these Fun n' Colorful Glass Canisters. Use the fun and decorative stencils from Handmade Charlotte to label your jars with cute little words and phrases. These Fun n' Colorful Glass Canisters also make wonderful gift ideas for friends and family, and they're just as useful in the bathroom or craft room as they are in the kitchen. All you need to create these sweet canisters is a set of stencils, a few bottles of paint, and a little imagination. Start the New Year off right by getting your home organized with the help of these Fun n' Colorful Glass Canisters.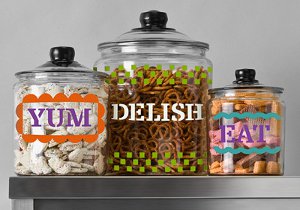 Materials:
FolkArt ® Painting Tools - Spouncer Stenciling Sponges - Small
Stencil Decor ® Accessories - Stencil Tape
FolkArt ® Enamels™ - Wicker White, 2 oz.
FolkArt ® Enamels™ - Pure Orange, 2 oz.
FolkArt ® Enamels™ - Violet Pansy, 2 oz.
FolkArt ® Enamels™ - Turquoise, 2 oz.
FolkArt ® Enamels™ - Yellow Citron, 2 oz.
FolkArt ® Handmade Charlotte™ Stencils - Frames
Brush basin or container for water
Foam plates
Paper towels
Rubbing alcohol
Glass canisters with lids
Pencil
Tracing paper
Ruler
Instructions:
Thoroughly wash glass containers with mild soap and water. Dry and wipe with rubbing alcohol to remove any residue.

Select stencil frame design and alphabet letters to be used to create label.

Create a paper pattern to position both frame design and letters for spacing. Simply draw a straight line using a ruler and trace each letter shape measuring spacing between letters equally.

Using paper pattern as a placement template, work from the center of each word outwards. Tape the stencil in place. Load a spouncer with desired color and stencil using a straight up and down dabbing motion until entire area is opaque in color. Remove stencil and allow paint to dry before placing next letter stencil.

Once word has been stenciled, stencil frame around the word. Allow to dry.

Refer to enamels bottle for complete curing instructions.
Your Recently Viewed Projects