4th of July Tea Light, Glow Stick or Sparkler Holder
Unlike most craft projects, this 4th of July project from Cathie & Steve is very versatile. When completed you can use it as a tea light, a glow stick, or even a sparkler holder. Your kids will love playing with this craft project on 4th of July, or any summer night.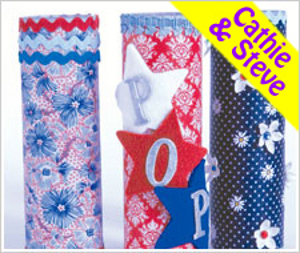 Materials:
2772 - FolkArt ® Extreme Glitter™ - Silver, 5 oz.
CS11205 - Mod Podge ® Gloss, 4 oz.
Glass cylinder
Wax paper
Foam Paintbrush
Red; white and blue printed fabrics
Decorative trim
Chipboard letters: P-O-P
Detail paintbrush
Hot Glue
3 Felt Stars

Instructions:
Measure around the cylinder, add a ½" to the height and width measurements. Trim the fabric to the measurement. Place the fabric on a piece of wax paper and coat with Mod Podge. Wrap the wet fabric around the cylinder, lining up the top with the top edge, wrapping the additional ½" around the base and overlapping the side seam. Place upside down to dry.

Once dry, hot glue decorative trim around the top edge.

Add extreme glitter to the chipboard letters with a detail paintbrush. Allow to dry. Hot glue the felt stars to the cylinder. Hot glue the glittered letters to spell POP.

Optional details: add rows trim along the top or base or hot glue a few simple flowers and rhinestones to the cylinder.
Your Recently Viewed Projects