Homemade journals are great because you can decorate them any way you'd like. With these instructions for a Decorative Mini Journal from Melissa Langer, you'll be able to make your own personalized diary or customized journal in no time!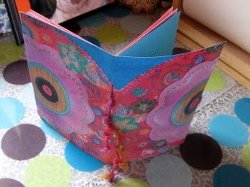 Materials:
Piece of card stock (example shown is 8" x 10")
Scanner (example was made using a Flip-Pal mobile scanner)
Several sheets of construction paper (depending on how many pages you want in your journal)
Bookbinders awl or protractor
Ruler
Tapestry needle
Bobble yarn
Stickers and other decorations to paste inside your journal
Instructions:
Scan an object with a pretty pattern that you want to use for the cover of your journal.

Print the scanned image onto the card stock.

Fold the piece of card stock in half.



Measure the card stock and cut the construction paper pages to be 1/4" smaller and fold them in half.



Find the center of the paper and punch a hole with a book binder's awl, protractor, or other sharp object.

Measure about 1.25" from the top and bottom of the center crease and place a hole in each spot.



Thread the tapestry needle with the bobble yarn and start in the center hole. Sew in and out of all 3 holes so that the two ends end up on the outside of the cover in the center hole. Tie a knot at the end.



Decorate the inside pages of your journal.



Your Recently Viewed Projects