Blueberries and Lace Beaded Jewel
If you love the color blue and you love blueberries this is the perfect craft for you. Make your own jewelry piece from AMACO. Flaunt your new necklace or bracelet, be proud of what you created.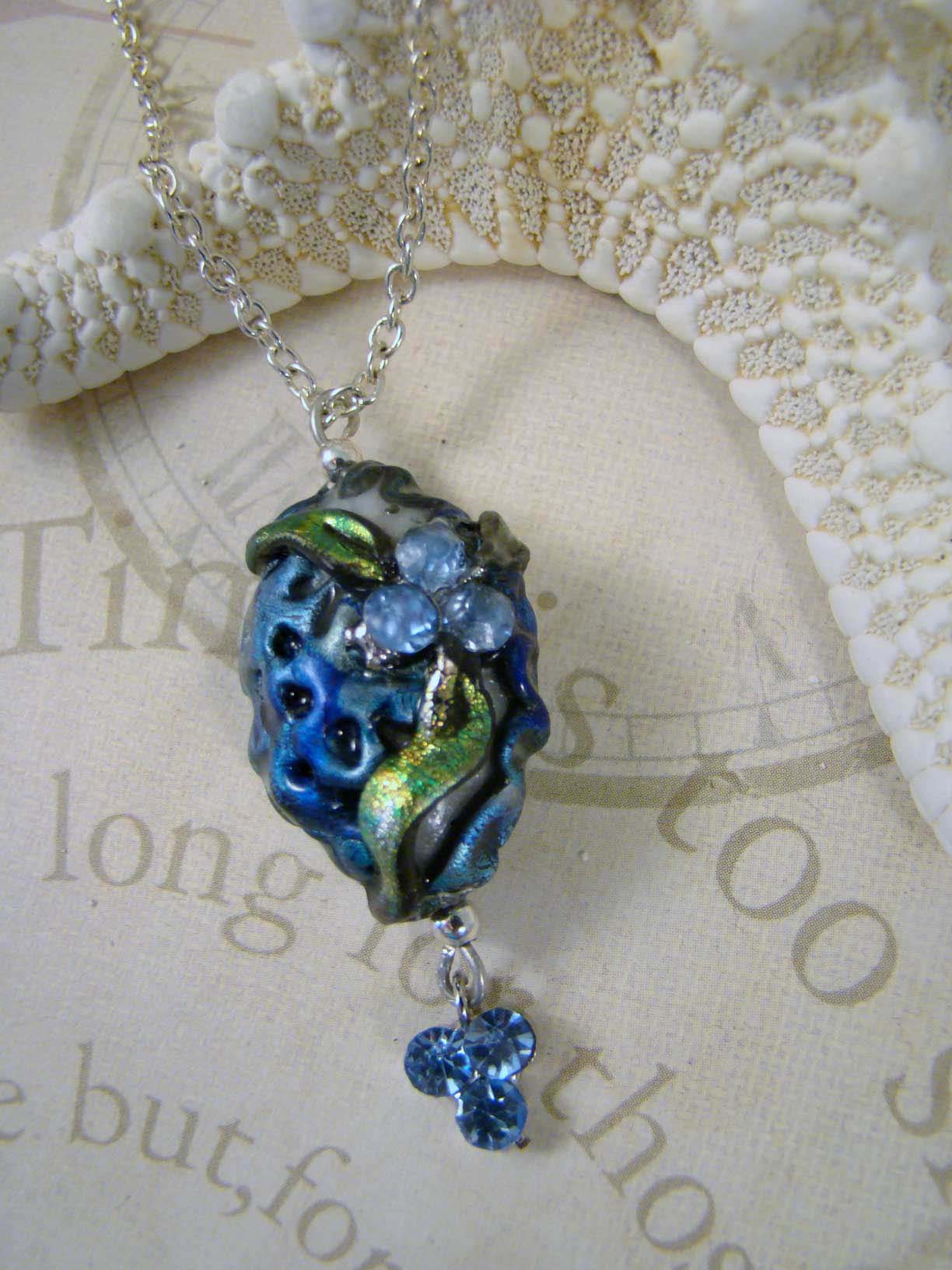 Materials:
Friendly Plastic – 1 oz pellets
ProBead Roller - #6 Oval (optional)
Friendly Plastic Sticks – advocado/black, metallic turquoise/blue
Needle Tool
Pearl Ex Powder – pearl white
Two Eye Pins
E-6000 glue
Chain
Accent Beads of choice
Toggle or clasp
Griddle
Heat Gun (optional)
Non-stick cookie sheet
Ball tipped metal stylus – small/medium size
Silpat – non stick cookie mat
Bowl of Cold Water
Scissors (Tim Holtz – work the best to cut plastic)
Pliers
Baby Oil
Tip: Set griddle to approximately 160 to 180 degrees. Melt Pellets on non-stick sheet until clear. Add a small amount of baby oil to hands and tools to prevent sticking. Use caution when working with the griddle and Friendly Plastic to avoid injury. If Friendly Plastic bubbles it is too hot, remove from heat and lower temperature of griddle.
Instructions:
Working with Friendly Plastic requires a degree of heat and cold water. Generally with each application of heat, there is a cooling in water to set that particular area. That way I can work on a specific area at one time without distorting other areas.

Mix a small amount of Pearl-Ex Powder into the melted pellets. This does not need to be completely mixed as it will create a marbled effect.

Reheat plastic as necessary to soften and continue mixing. When mixing is complete, place plastic onto non stick cookie sheet and heat completely on the griddle.

Cut three 1/8" x 2" wide strips of advocado green and a 1" square of turquoise.

Add a drop of oil to silpat and heat turquoise square. Once soft, press stylus into plastic just inside of edge and press outwards. This creates a scalloped pattern. Continue until you have a pleasing pattern. Cool completely in water.
To create bead in bead roller: Make approximately a 1" ball, place it into the bead roller. Gently place the lid on and roll back and forth applying gradual pressure until bead forms. If bead does not completely form – add more plastic. If it squishes out the sides, remove some plastic then reheat and reform.

To hand form a bead, simply roll into palm of hand and form a pleasing shape. Cool in cold water.

Use heat gun for 5 seconds to lightly soften lacey plastic. Apply to base bead where desired. Use heat gun to manipulate the lace effect into place. Cool in water to set.

Slightly heat green strips and apply to bead as desired. Cool.

Heat the area for the jewels. Press in jewels. Cool.

Using pliers, heat the end of eye pin and press into top and bottom of bead.

Once cooled, remove eye pins and jewels. Secure in place with glue. Allow to dry.

Add to chain along with any accent beads.
Your Recently Viewed Projects
Join our community of 5 million crafters!
Get free craft projects, exclusive partner offers, and more.
Thank You for Signing Up!
There was an issue signing you up. Please check your email address, and try again.
Jewelry Making
Find step-by-step tutorials on how to bead and make jewelry. Search for products, tips, and ideas for jewelry making projects, polymer clay jewelry and beaded jewelry.
Sort Results By:
There are no records