Get busy on your Friday night with this fantastic tie-dye apron from I Love to Create that you can make yourself! You won't want to get out of the kitchen with this fashion statement to wear.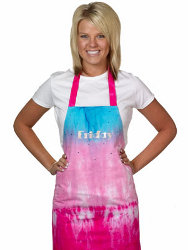 Materials:
Tulip® One-Step Fashion Dye™
Tulip® One-Step Tie-Dye Kits™
Tulip® Soft Fabric Paint™
Tulip® Glam-It-Up!™ Iron-On Crystals™
Apron pattern, Simplicity 9565
Foil
Scissors
Cosmetic sponge
Fabric, 100% natural for apron
Paper towels
Sewing machine and cotton thread
Pencil
Iron
Freezer paper
Plastic bags, large
Note: If you prefer to buy a plain apron, choose one made with 100% natural fabric.
Instructions:
Prewash fabric to remove sizing. Do not use fabric softener or dryer sheets.

Make apron according to pattern instructions.

Cover work surface with plastic bags.

Wet apron. Place in washer on spin cycle to remove excess water.

Lay damp apron flat on plastic bags.

Wearing rubber gloves, add water to dye bottles. Replace cap tightly. Shake until dye is dissolved.

Lay apron flat on plastic bags. Pinch a small amount of fabric where desired. Place rubber band around fabric. Repeat where desired.

Apply Turquoise dye on a small section at top. Apply Fuchsia below Turquoise below bust area and on rubber banded areas. Apply Pink Lemonade to remaining apron.

Cover apron with plastic bags. Let sit 4-6 hours. Wash in a large load of water with a small amount of laundry soap. Line dry. Iron.

Print Friday pattern. Place on work surface. Place freezer paper over lettering with shiny side down. Trace with pencil. Cut out. Place on apron shiny side down. Iron for a few seconds until adhered.

Squeeze a puddle of Champagne Soft Paint on foil. Dab cosmetic sponge in paint. Dab in openings of stencil. If needed, apply a second coat for complete coverage. Remove stencil.

Randomly place Crystals on apron. Follow package instructions to adhere.

Wait 72 hours to wash. Machine wash warm on gentle cycle. Do not use harsh detergents or bleach. Remove promptly and line dry.
Your Recently Viewed Projects