Constellation Postcards
Paint the stars with this easy DIY postcard and watercolor craft idea.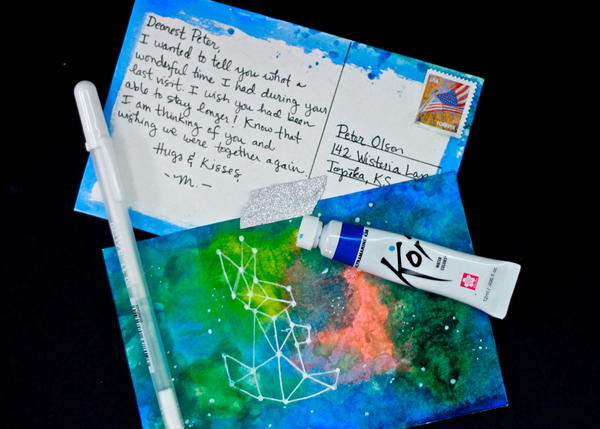 Constellation Postcards
Use water color paints and paper to learn how to paint the galaxies with this free paper crafting tutorial. The Constellation Postcards are a stunning and unique paper crafting idea that allows you to send the stars to someone you love. All you need for this pretty DIY craft project is basic water color materials as well as a white pen to create your constellations. It is easy to personalize these postcard crafts by making your up your own constellations or drawing the recipient's star sign. These postcards are so beautiful that you may even want to frame them when you are finished.
Time to CompleteIn an evening
Primary TechniquePainting

Materials List
Koi® Tube Watercolors
Gelly Roll® Classic™ white pen
Watercolor paper (Strathmore)
Paintbrush
Palette
Water
Pencil
Ruler
Scissors
Paper towel or rag
How to Make Constellation Postcards
Supply Tips
Use Koi® tube watercolors, made by Sakura which offer intense pigments and a wide range of colors.

Use Strathmore cold press, which has a nice weight and texture that's ideal for watercolor paint. Use the 9"x 12" size, to get four 4x6 postcards out of a single sheet.

You'll need a white Gelly Roll® pen. This gel pen with white ink shows up well on dark paper, so it's perfect for drawing our starry constellations.
Painting a Galaxy Watercolor Technique
Mark the dimensions of the four postcards you're painting. You can trace a 4x6 postcard or use a ruler instead.

Use Vermilion Hue, Lemon Yellow, Deep Green, Prussian Blue, Cerulean Blue and Ultramarine watercolors. Add a small dab of each color to separate compartments on your palette. These Koi® paints are intense, so a little goes a long way. Add about two teaspoons of water to each, then blend.

Paint all of the postcards at the same time. Start with Vermilion Hue and add a single splash of color somewhere near the center of each postcard.

Now add a couple spots of Deep Green to each postcard.

Next add Cerulean Blue. It's okay to touch the other colors and allow them to blend a bit.

Now add the Lemon Yellow.

Use a generous amount of Ultramarine to the cards. Wait until the cards are dry before adding the Prussian Blue.

Wet your brush and use it to blend the remaining white areas on the card. Allow the paper to dry completely.

Now add the last color, which is a deep Prussian Blue. It's also handy to have a paper towel or cloth rag for blotting. Add a generous amount of paint around the edges of the card, then blot and blend the paint using a paper towel or rag. This adds some texture and the appearance of depth.

Allow the paper to dry, then cut out along the pencil lines.

If you want, you can brush a quick watercolor border on the back of the card as well.
Creating the Constellations
Now draw out constellations with the white Gelly Roll® pen. It's helpful to sketch out some designs on a piece of colored scratch paper first. You can make any shape or design you'd like. Just remember to make all of your lines straight, and your angles pointed rather than curved. You could look up and copy actual constellations, or you could make your own interpretation of astrological symbols. Or you could draw an animal that inspires you or maybe the initials of the person you're sending the postcard to.

Once you've drawn the outline, add circles at each intersection to create stars. You can add extra points and lines within the shape, as well.

Finally, add circles and speckles to the background to give the impression of stars.

Prep your postcard for mailing by drawing a line on the back, about ? of the way from the right edge. Draw three lines for the address.
Your Recently Viewed Projects