Thrifty Tee Shirt Headband
You or your little girl can wear this Thrifty Tee Shirt Headband from Amanda Formaro. Old tee shirt crafts like this are great for those special tees that mean so much, but that you'll never wear again. Now you can simply wear them differently! T-shirt crafts like this are easy, fun, and great for girls to do together or with their mom. Wearing DIY headbands is a sure fire way to defeat a bad hair day. Plus, they make charming DIY crafts that you can make with kids.
if you are looking for ways to use up old t-shirts, this is a stunning way to combine your crafting know-how with your style prowess. Unlike many other t-shirt headbands, this easy-to-make craft utilizes a plastic headband in the process, ensuring that you will be creating a hair accessory that will actually stay on your head. The soft material will keep you comfy while the plastic headband keeps your accessory snug. You get the best of both worlds!
---

Find this project and more in our free eBook, How to Make Bows, Hair Pins and More: 33 DIY Hair Accessories.
---
How to Make T-shirt Headbands
Materials:
Recycled T-shirts
Plain headband
Hot glue gun
Scissors

Instructions:
Cut t-shirt into long strips about 3/4" wide.



Glue the end of a strip to the inside end of the headband, about an inch up the band. Fold strip around the band end and glue to the outside as well, this will tack it in place.



Gluing as you go, tightly wrap the strip around the headband. If you run out of shirt-strip before finishing, simply tack the end of the first strip in place and begin with another until the headband is completely covered.



Rubber band or tie three strips together then braid them. Glue the braid to the top of the head band. Carefully trim the ends and glue in place.
---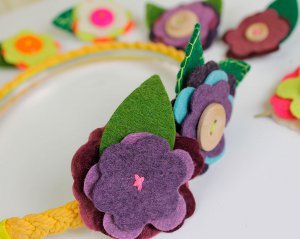 Find even more DIY headband ideas in our collection of 21 DIY Headbands and How to Make Headbands Tutorials.
---
Your Recently Viewed Projects