20 Crafts with Mason Jars: Wedding Ideas, Centerpieces, Decor and More free eBook
20 Crafts with Mason Jars: Wedding Ideas, Centerpieces, Decor and More free eBook
Create amazing mason jar crafts that look great and cost almost nothing!

Mason jar crafts come in all shapes and sizes nowadays. And with the help of our new free eBook, 20 Crafts with Mason Jars Wedding Ideas, Centerpieces, Decor, and More, you'll be able to take all those versatile glass bottles and transform them into decorative Mason jar craft ideas for your home or office. From the small to the large, the wide to the tall, Mason jars have been inspiring crafters for decades. They're great for storing small items and supplies, holding kitchen and craft utensils, and can even be used as vases and centerpieces for parties and weddings.
So whether you're looking for Mason jar centerpieces for wedding tables or are planning ahead with some Mason jar crafts for Christmas, the decorative projects in 20 Crafts with Mason Jars: Wedding Ideas, Centerpieces, Decor and More are sure to inspire you to look at that simple glass jar in a new light. So pull that box of glass jars out of the garage, grab some twine, Mod Podge and a collection of your favorite embellishments, and get ready to turn those old spaghetti, pickle, and jelly jars into simply stunning décor.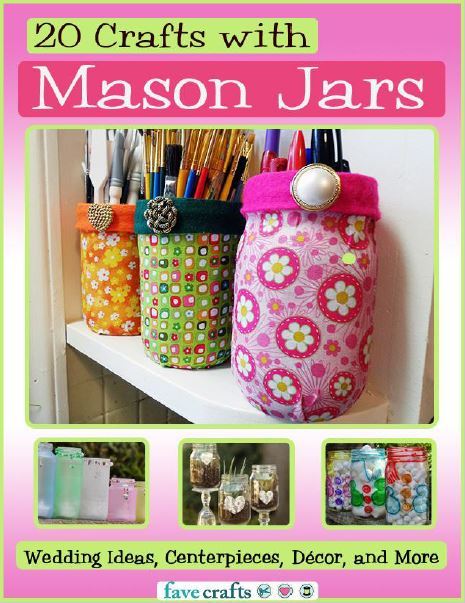 20 Crafts with Mason Jars: Wedding Ideas, Centerpieces, Decor and More free eBook
Table of Contents

Note from the Editors
Hello, Readers!
Chances are you have some Mason jars lying around your kitchen or craft room. If you're looking for some clever ways to put those Mason jars to use, you're going to love the projects in 20 Crafts with Mason Jars: Wedding Ideas, Centerpieces, Décor, and More. From party centerpieces to storage receptacles, these simple yet chic Mason jar crafts are sure to help transform almost any room in your house.
You can find more craft projects, great activities for kids and decorating ideas at www.FaveCrafts.com.
Our eBooks, like all of our craft projects, are absolutely FREE. Please feel free to share with family and friends and ask them to sign up at our website for free newsletters from FaveCrafts.com.
We hope you enjoy reading and creating!
Sincerely,

What's in this Free eBook
Gifts in a Mason Jar Ideas
If you're looking for gifts in a Mason jar, ideas like these are sure to please! From Christmas gifts to wedding favors, these crafts for Mason jars are great to give out to family and friends. Package up your favorite cocoa recipe and use it as a stocking stuffer, or give wedding guests the ingredients to make your favorite cookie so they have something memorable to take with them once the wedding is over. In 20 Crafts with Mason Jars, we've collected several great gift-in-a-jar ideas that can be used for almost any season or occasion. If you're not willing to try making your own jelly, you could always stick with a simple gift of handmade marshmallows and package them up in these adorable Snowman Belly Jars. These painted Mason jars are great for giving to friends and family this holiday season. You can easily create a variety of these jars in all shapes and sizes and fill them with whatever you'd like!
Organizational Crafts to Do with Mason Jars
It may seem obvious, but Mason jars are a fantastic tool for organizing your home and work space. Whether it's the garage, the craft room, the office desk, the bathroom, or even the kitchen, using Mason jars to store your supplies and tools is a clever way to make your utensils and supplies double as clever decorations.
In 20 Crafts with Mason Jars, you'll find some great suggestions on how to transform these glass bottles into functional and decorative storage. As is the case with several of the projects in this eBook, you can easily make these tutorials work for you and slightly alter them to suit your needs.
Great for craft rooms, kids rooms, and so much more, these Mod Podge Mason Jars are a great way to store all kinds of supplies. Simply cover a glass Mason jar with a colorful fabric and you're good to go in seconds flat! You can also use these as Mason jar centerpieces for weddings, birthday parties, family gatherings and much more. Use them in the kitchen to store silverware and cooking utensils, or place them on a shelf in your craft room to act as decorative storage that can easily work for storing colored pencils, crayons, scissors, embellishments, and much more.
You can find these Mod Podge Mason Jars, as well as several other great organizational crafts to do with Mason Jars, in our free eBook, 20 Crafts with Mason Jars. Great for kids and adults alike, the fun and easy projects in this eBook are sure to make creating and recycling fun for crafters of all ages!
Decorative Crafts with Mason Jars
Perhaps one of the most popular uses for Mason jars is to turn them into vases and centerpieces. Great for parties, weddings, and celebrations, Mason jars offer a budget-friendly option that everyone can appreciate. With some simple crafting techniques and a few additions and embellishments, you can easily turn an old spaghetti jar into a centerpiece worthy of a classy wedding or baby shower.
Even if you're not having a large celebration, Mason jars can be used to decorate your home as well. Turn them into flower vases or create lovely luminaries to help give your home a unique glow. These Frosted Luminaries, for example, are great for using as home décor or adding a nice look and feel to a dinner party or bridal shower. You can make these Mason jar luminaries in any color you'd like, and they look especially cute as a group of mixed sizes and shapes.
Holiday and Christmas Mason Jar Crafts
The holidays are a perfect reason to craft with Mason jars. From 4th of July to Christmas, these Mason jar Christmas crafts and holiday crafts are great for decorating and gift-giving.
Looking for crafts with Mason jars for kids to work on? Then you're going to love these 4th of July Mason Jar Snackies. Kids will love creating these little snack packs and they're great for giving out to friends and family at your next 4th of July picnic. You could even use this same tutorial to make Christmas-themed snackies, or snackies for Halloween, Easter, or even Mother's Day and Father's Day. The possibilities are endless with these fun and easy Mason jar crafts, and crafters of all ages are sure to love getting in on the fun of making these fun projects.

Need Help Downloading?
You can easily download and print out each book for on-hand reference while crafting. For help downloading our eBooks, check out the FAQ here: How to Download our eBooks.
Don't Miss Our Other eBooks!
Be sure to check out our entire collection of eBooks. You'll find titles such as:
Sign Up for Our Free Newsletter
With your free copy of 20 Crafts with Mason Jars: Wedding Ideas, Centerpieces, Decor and More, you can also subscribe to our Quick and Crafty newsletter to become part of the FaveCrafts community. In subscribing to the newsletter, you will receive:
Five weekly emails with free crafting patterns, tips, collection pages, videos and more + a weekly wrap-up.
Chances to win books and products from our weekly giveaways and contests.
New FREE patterns and eBooks made available to you throughout the year.
Access to our free pattern library full of over 1,000 of free crafting patterns.
The opportunity to share ideas and help others in the crafting community.
Filled with lots of Mason jar craft ideas that are great for all occasions, 20 Crafts with Mason Jars: Wedding Ideas, Centerpieces, Decor and More is a great go-to guide for using up all those empty glass jars. From budget-friendly wedding centerpieces to functional storage that doubles as cute home decor, these Mason jar crafts are great for anyone who's looking for ways to craft their way through the recycle bin!

Download your free copy of 20 Crafts with Mason Jars: Wedding Ideas, Centerpieces, Decor and More today!
---
Free Craft Video: 20 Mason Jar Crafts eBook Sneak Peek
---
Your Recently Viewed Projects
Join our community of 5 million crafters!
Get free craft projects, exclusive partner offers, and more.
Thank You for Signing Up!
There was an issue signing you up. Please check your email address, and try again.