Clay Magic Bugs
Don't squish these bugs. Your kids can help you craft these magic clay bugs. Using clay and modeling compound you can have your decoration in a few steps. For more great summer crafts for kids, check out our Free Summer Crafts for Kids eBook.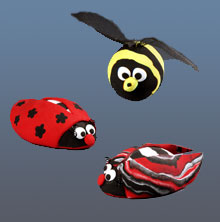 Materials:
STYROFOAM™ Brand Foam Products:

Eggs, one each: 4" (ladybug); 3" (bee)

Air-dry modeling compound: black; red; white; yellow
Window screening, 3" x 7"
Serrated knife
Plastic-coated craft wire, Black
Mini flower clay cutter
Pencil
Paraffin or candle stub
Plastic-coated paper clip, Black
Ruler
Rolling pin
Scissors: regular and/or decorative-edge (optional)
Wire cutters
White, thick craft glue

Instructions:
Ladybug
Wax serrated knife with candle stub or paraffin. Cut 4" foam egg in half lengthwise; set aside one half-egg. (NOTE: This step is not for children; an adult should be available to cut with a serrated knife.)

Use rolling pin to roll 2" ball of red modeling compound to 1/8" thickness, turning several times to prevent sticking. Place one half-egg cut side down on compound; cut compound slightly larger than egg.

Roll four 1" balls of black compound and three 1" balls of white compound; roll each ball into a log. Beginning with black, place alternating logs close together on work surface. Press logs together and roll to 1/8" thickness, large enough to cover top of egg. Drape compound over egg; trim excess. Press edges together to seal.

For flowered wings, roll 2" ball of red and 1" ball of black to 1/8"-thick circles. Use clay cutter to cut several flowers from each circle; replace cut-outs in red compound with black cut-outs. Gently press compound together.

For marbled wings, roll 1" balls of white, black and red into logs; twist together. Fold in half and repeat until desired effect is achieved. Roll compound to 1/8"-thick circle.

Cut one end from wing circle, then cut circle in half. Refer to photo to press wings to body, slightly separated and leaving head exposed.

For face, roll small amounts of white and red compound into tiny balls for eyes and nose as shown; press to head. Add small black dots to eyes; press to secure.

Cut two 3" wire lengths; wrap wire around pencil to curl. Glue wire ends into head for antennae; let dry. When dry, spot glue eyes and nose to head to secure as needed.
Bee
Repeat ladybug Step 3, using yellow compound in place of white. Roll compound out large enough to wrap around entire 3" foam egg.

Beginning at wide end (face), wrap compound around egg. Do not stretch compound too tightly; it will shrink during drying process. Press seam together; use scissors to trim excess. If any foam is visible at small end of egg, add circle of black compound; press to foam.

Refer to photo. Repeat ladybug Step 7 to create face, using yellow compound in place of red.

Fold screening in half. Use decorative-edge or standard scissors to cut teardrop-shaped wing on fold. Unfold wings. Cut paperclip in half; dip ends into glue. Use paperclip to attach center of wings to body.

If necessary, spot glue eyes and nose to head to secure.

®™ Trademark of The Dow Chemical Company ("Dow") or an affiliated company of Dow. For more project ideas, please see styrofoamstyle.com.
Your Recently Viewed Projects
Join our community of 5 million crafters!
Get free craft projects, exclusive partner offers, and more.
Thank You for Signing Up!
There was an issue signing you up. Please check your email address, and try again.