Ever wondered what you could do with those free paint chips at paint stores? The Funky Paint Chip Garland is a fun and easy way to use those free samples. This is one of the best paint chip crafts we've seen. Use paint chips and a bit of twine to create a unique and effortlessly cool party decoration. The simple design can be modified to fit any party's needs. Choose bright or soft colors, making it as bold or subtle as you like. It'll cost you next to nothing and look fantastic.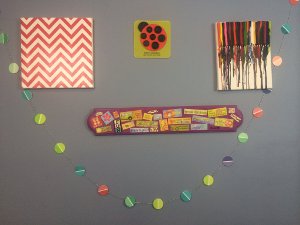 Materials:
Paint chips
Twine
Glue runner
1.5 Circle punch
Instructions:
First, you will want to take your paint chips and punch out however many you think you will want for your garland.

After this is done, start your twine and decide how you want to space it out. You will take one paint chips on each side of the twine. This way, when it spends you will see the paint chips on either side.You can space this out however much you want. Enjoy!
Your Recently Viewed Projects