Add to your collection of Fairies and Spirits
If you like collecting fairies and spirits then this Fairy House is a perfect addition. It's made with a lot of natural products and can make for a conversation piece.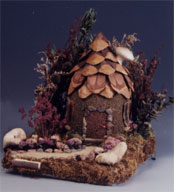 Materials:
STYROFOAM Brand Products:

Egg, 6"
Sheet, 7" x 8" x 1"

Acrylic craft paint, brown
Dried materials in assorted heights: larkspur, astilbe, amaranthus, baby's breath, statice, tree fern, fungus, mushrooms
Sphagnum moss
Reindeer moss
Silk mushroom
Large pinecones
Small pebbles
Fine sand
Branch, 10" x 1/2"
Strainer
Screwdriver
Hammer
Skewer or sharp pencil
Scissors
Keyhole saw
Utility knife
Serrated knife
Thick white craft glue
Low temperature glue gun and glue sticks
Steps:
Using serrated knife, cut a small slice from wide end of foam egg; angle cut slightly to egg tilts to the back. (HINT: For smoother cuts, wax the knife blade with an old candle.) Glue egg to the back corner of the foam sheet.

Paint egg and base brown; let dry. Glue on small pebbles to form walkway, front door, and two windows; as you glue, press pebbles firmly into foam.

Create a fine "dust" from the sphagnum moss by forcing several chunks through a strainer; the moss dust will be used to texture the surface of the base and house. Spread a thin layer of glue on house, avoiding the door and windows, and on the base, but not on the walkway; sprinkle moss dust over glue.

Slice branch in half by pounding a screwdriver into one end. Using saw, cut the following pieces from the halved branch:

• One 1" piece (door step)
• Two 3/4" pieces (window boxes)
• Two 1-1/4" pieces (walkway steps) Glue pieces in place, using utility knife as needed to cut away foam.


Glue small dried flowers in window boxes. Glue small seed pods on either side of window for shutters.

Cut apart pinecone; pinecone scales will serve as the shingles. Glue scales around narrow end of egg, overlapping scales as you go. (The model's roof has five layers of scales.) For the final layer, trim to a point the stem ends of three scales and glue to the very top with points touching. Add mushroom chimney.

Spread glue on walkway; sprinkle with sand.

Create a garden by adding small dried flowers and greens on either side of the walkway; use a skewer or sharp pencil to poke holes in foam first, then add glue and insert stems.

Glue reindeer moss around the base of house, creating "bushes".

Using sphagnum moss and deer moss, fill in bare spots and cover sides of base. Add fungus and mushrooms as desired for accents.

Create a backdrop around the house by adding dried flowers and greens of various sizes and textures; use a skewer or sharp pencil to poke holes in foam first, then add glue and insert stems.

Glue berry onto door for doorknob.
®™ Trademark of The Dow Chemical Company ("Dow") or an affiliated company of Dow. For more project ideas, please see styrofoamstyle.com.
Your Recently Viewed Projects
Join our community of 5 million crafters!
Get free craft projects, exclusive partner offers, and more.
Thank You for Signing Up!
There was an issue signing you up. Please check your email address, and try again.