"From Head to Toe, Young to Old: 26 Knit and Crochet Accessories" eBook from Red Heart Yarns
Free Knit and Crochet Patterns from Red Heart Yarns and FaveCrafts.com: From Head to Toe, Young to Old: 26 Knit and Crochet Accessories eBook
The bad thing about winter is that it comes back year after year. Many people are unprepared for the harsh weather that comes with a winter wonderland. Beat the cold and enjoy the winter by bundling up in a handmade hat, scarf, and pair of gloves or mittens. Or better yet--stay indoors and cozy up by the fire in a pair of slippers! Pick your craft of choice, knitting or crochet, and whip up a bunch of cool winter accessories for yourself or a friend. You'll be spreading warmth and coziness, the greatest gifts of all! Download this free eBook and you'll learn how to knit a glove, a scarf, a hat, and slippers. Or if crochet is more your speed, you'll find plenty of crochet hat patterns, gloves, scarves, and crochet socks and slippers. Knit or crochet one of each for a truly toasty winter wardrobe.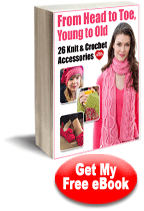 Download your copy of From Head to Toe, Young to Old: 26 Knit and Crochet Accessories today.
Crochet Hat Patterns: Cotton Candy Cap
With this free eBook, you'll learn how to crochet a hat, a skill that you'll use over and over again! Once you learn the basics, making hats for yourself and for gifts will come naturally to you, and you'll be able to tackle more difficult patterns as well. This eBook includes 10 hat patterns for everyone, from little girls and boys to babies and adults. Many of the patterns can be adapted for different people--change the size to make a child's pattern fit an adult or an adult's pattern fit a child, and change the yarn to make a girl's hat pattern appropriate for a boy and vice versa. You can always tweak and alter the patterns to your taste as well. Why not add a brim or a crochet flower embellishment to make your crochet hat patterns one of a kind? Since you lose most of your body heat through your head, wearing a hat is the most efficient way to stay warm when you go outside in the winter. Stitch one up using one of our crochet patterns that we've included in this free eBook, and your head and ears will be comfy cozy in colder weather. This cotton candy cap is an example of one of the adorable patterns you'll find in this eBook. The colors of that hat, inspired by cotton candy, make this crochet accessory sugary sweet, perfect for any little girl! Make a crochet hat inspired by the cotton confection, or try one of our other simple patterns.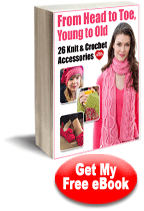 Download your copy of From Head to Toe, Young to Old: 26 Knit and Crochet Accessories today.
Knitted Hat Patterns: Adam's Rib Cap
If crochet is not your forte, look no further than our knitted hat patterns, like this Adam's Rib Cap. Sometimes it's hard to find patterns appropriate for men and boys, but this masculine, blue, ribbed cap is perfect for keeping your teenager's ears covered and protected in chilly weather. Knitted hat patterns tend to take longer to make than their crochet counterparts, but the results are stunning. Anyone would be thrilled to receive a handmade, knit hat from you as a gift. Hand-knit winter accessories tend to be better quality than store-bought winter gear, which means they'll keep you warmer in the coldest weather. Spread the love and the warmth by stitching up dozens of heartfelt hats using the patterns inside this free eBook. Knitting a hat is a very therapeutic activity; the repetitive stitching can help you relax and unwind after a stressful day. Knitting is also a great activity to do in front of the television or in the car on a long road trip. Keep your hands busy wielding hooks and yarn to make unique hats for everyone you know. No one will be shivering this winter when they wear a hat knitted by you!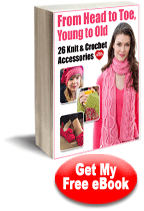 Download your copy of From Head to Toe, Young to Old: 26 Knit and Crochet Accessories today.
Crochet Scarf Patterns and Mittens: Colorful Texting Gloves
Texting is hot right now, you have to admit! Whether you have a touch screen or a keypad, sometimes it's tough to text while wearing gloves. So you have to make a choice: text your friends, or keep your fingers warm. Or do you? Not anymore! With our crochet pattern for texting gloves, you can keep your hands warm when you're outside in the winter without sacrificing communication. These gloves have removable fingertips, so you can choose which fingers are most necessary for texting, and keep the rest covered. After your message is sent, replace the fingertips until you send your next text. Not a big texter? We've got a bunch of other cool patterns you'll love, including crochet scarf patterns. This eBook includes a few crochet scarves for women, men, and children. Some are traditional long scarves, but we've also included infinity scarves and neck warmers for fashionistas who like to keep warm. You'll also learn how to crochet scarves with fingers and without, depending on your style (and whether or not you're a texting enthusiast!). If you're not an advanced or expert crocheter, you can still learn a lot from this eBook. You'll find tons of patterns that are perfect for your skill level, and you'll learn how to crochet gloves for beginners, among other things. Crochet accessories can be as simple or as complicated as you want them to be, and we have patterns for both ends of the spectrum and everything in between!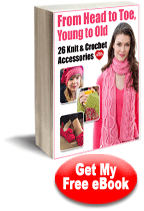 Download your copy of From Head to Toe, Young to Old: 26 Knit and Crochet Accessories today.
Knitting Patterns for Scarves and Mittens: Ocean Waves Scarf
To warm up the rest of your body, we have included several knitting patterns for scarves and mittens as well. There are several stylish knitting patterns for scarves, like this beautiful ocean waves scarf, inspired by the colors and motion of the ocean. This luxurious scarf is a great way to be reminded of warmer weather and paradise in the middle of winter. Wearing this scarf will remind you and everyone you come across that summer is always right around the corner (even if it is only December!). Not only are the colors reminiscent of the ocean and gorgeous summer sky, but the texture mimics the wave motion in the sea, which is done by creating the ripple pattern provided in the instructions. You won't believe how simple it is to make this scarf or any of the other knit scarf patterns we've included in this free eBook. Also in this chapter, you'll find a fingerless gloves knitting pattern plus how to knit gloves with fingers. Again, whether you're a texting aficionado or not, you'll find a knit gloves pattern for you inside this eBook!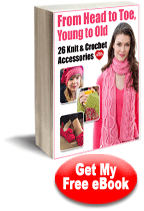 Download your copy of From Head to Toe, Young to Old: 26 Knit and Crochet Accessories today.
Funky Slippers: Fireside Slippers
The final knit and crochet accessories we included in this eBook are slippers! Everyone gets a case of cold feet every once in a while, so warm up your toes with handmade socks and slippers. Whether you prefer to wield a hook or a needle, grab some yarn and turn it into beautiful and cozy footwear using the patterns in this free eBook. We've got lots of crazy slippers and funky slippers to make if you like to express your personality on your feet. These vibrant fireside slippers are a fantastic crochet slipper pattern to make and wear by the fire on a cozy winter night. We've also got knitted slipper patterns and crochet socks. There's something for everyone and every foot inside this eBook! Try on a crochet sock pattern on for size, or choose a knitting pattern that tickles your fancy. You'll never get cold feet again.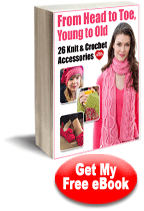 Download your copy of From Head to Toe, Young to Old: 26 Knit and Crochet Accessories today.
With your free copy of From Head to Toe, Young to Old: 26 Knit and Crochet Accessories eBook you can also subscribe to our Quick and Crafty newsletter to become part of a helpful and friendly crafting community. In subscribing to the newsletter you will receive:
Six weekly emails with free craft projects, tips, collection pages, videos and more
Chances to win craft books and products from our weekly giveaways and contests
New FREE patterns made available to you throughout the year
Access to our free project library full of over 7,000 more free craft projects
The opportunity to share ideas and help others in the crafting community
All of these great knit and crochet accessories patterns can be yours, absolutely free, from the knit and crochet hats to the scarves, gloves, and slippers. All you have to do is click to download the eBook, and you can save it to your computer, print it out, or just bookmark the page and return as often as you like! You can make hundreds of gifts using the patterns inside this eBook, and you'll always have something to do while watching television, traveling in the car, or waiting at the doctor's office. Spread the warmth by knitting and crocheting winter accessories for everyone you know. Download this free eBook today to check out all 26 patterns and see which one is your favorite!
Your Recently Viewed Projects