How to Make a Fiber Scarf
Often used for machine embroidery, water-soluble stabilizer can also be used to make interesting fiber scarves in just a few hours. You can use a mix of soft and coordinating ribbons, fabric strips and yarn to make these scarves. Host a party to create these scarves and trade materials! The idea for this project comes from All About Machine Arts: Decorative Techniques from A to Z. Project from C&T Publishing.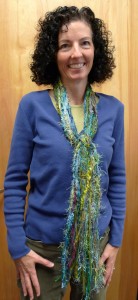 Materials:
2 pieces of water-soluble stabilizer in desired size of your scarf (two pieces of 6 inch wide x 6 feet long stabilizer for a scarf that size, or 12 inch wide to fold in half lengthwise)
Fiber- Yarn, Ribbon, Fabric Strips, etc.
Fringe- Simply left the fiber hang over the edge of the stabilizer.
Pins
Sewing machine

Instructions:
Place 1 piece of stabilizer on the table.

Lay the fibers the length of the scarf. You can use a lot of fibers to make a thick scarf, or use fewer fibers to make a thinner scarf. You can place the fibers in a very orderly manner, or you can just let them wander and twist.



After all the fibers are arranged to your liking, place the other piece of stabilizer on top (or if you have a wider piece of stabilizer, you can fold it in half).

Pin it well to keep everything in place.

Stitching is what holds everything in place. It's best to start by stitching a grid—it's essential that the stitching cross so be sure to stitch in at least 2 directions. It's easiest to stitch the short way first, then stitch the long way. After you have a grid you can add more stitching if you like. I find it easiest to do free-motion stitching. The stitching doesn't show much, so this is a good place to practice if you are new to free-motion.



After stitching, place the scarf in warm water and soak and/or gently rub or agitate until the stabilizer is dissolved.

Wrap the scarf in a towel to blot, then hang it to dry.

Wear with pride, or give it as a gift.


Your Recently Viewed Projects