Christmas Cookie Cutter Garland
Looking for some Christmas decor for the kitchen? This Christmas Cookie Cutter Garland would work perfectly! This quality Christmas garland will add a sense of charm and country style to your home. Perfect for the holidays!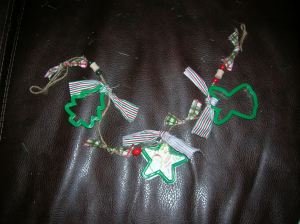 Materials:
Christmas cookie cutters
Ribbon, cord, or raffia
Beads and other desired embellishments

Instructions:
To make a garland first measure out the ribbon, cord, yarn, or raffia length to fit the purpose ot the garland (for the Christmas tree, banister, etc.). Consider using a real or artificial; plain or lighted greenery garland, or a "cranberry" bead or apple garland.

The next step is to attach the cookie cutters evenly spaced into the garland.

Place them about every 4 to 6 inches and tie them on with raffia or string them on the stringing cord, alternating with red and green wooden beads (add mini wooden hearts, stars, or thread spools if desired). Knot the stringing material between the cutters and beads to hold them in place. Leave lots of bare stringing material and use the garland to display Christmas cards, if desired.

Tie on simple bows between the cookies/cutters and beads for added interest. For a primitive or country feel, use 4 to 6-inch fabric strips torn from a fabric that fits with the color scheme for your tree or décor. Unravel the edges of the fabric to "frazzle" the ribbon. Then tie the fabric pieces to the garland with a loose double knot or tie shoestring bows with longer pieces.

Attach a mini grapevine wreath to each end of the garland for an attractive way to hang the garland on a wall.

This Christmas garland is made with cookie cutters (can be backed with scrapbook paper – see the middle cutter), beads, wooden spools and distressed fabric bows.

This greenry garland is set off with cookie cutters. As you can see the green cutters do not show up as well and the scrapbook paper backed ornaments. Tie the cutters on with ribbon or torn fabric strips. Adding some red berry clusters would really set off this garland. Consider using a lighted garland.



Add cutters and bows to a red bead garland. This would be great on a tree. Again, remember the green cutters will not show up as well on a green tree. Copper cutters would look very nice!



Your Recently Viewed Projects