Take your family country-side with this Amish leaf candle holder from I Love to Create. This cheap candle holder is truly a perfect wedding gift. The design will shine in any home, and it is such a cute addition to any room in the home!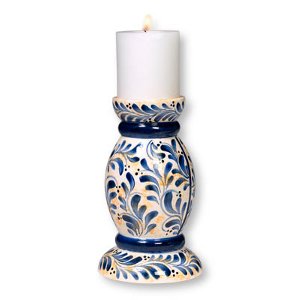 Materials:
Signature Brushes
SB 803 No. 4 Liner
SB 806 No. 6 Round
SB 807 No. 6 Fan Glaze
E-Z Stroke® Translucent Underglazes
EZ 023 Midnight Blue
EZ 026 Yellow Orange
Clear Glazes
IN 1001 Envision Clear Glaze
Banding Wheel
Sponge
Pencil
Duncan Mold, Colonial Light DM 2251
Instructions:
1. Clean greenware.

2. Sponge piece in a lacey pattern using a sponge loaded with EZ 026 Yellow Orange.

3. Center the piece on banding wheel.
4. Load the SB 806 No 6 Round with EZ 023 Midnight Blue and band upper and lower bands. Apply two to three (2-3) coats.

5. With the Midnight Blue and the SB 803 No 4 Liner divide center body of piece with a vertical line into 2 sections.

6. Using a pencil sketch in stems on entire piece.

7. Pull in all stems with EZ 023 Midnight Blue and the SB 803 No 4 Liner.

8. Brushstrokes are pulled in with the same brush and color using a press, pull and lift comma stroke working towards the stems.

9. Use the end of the brush handle to add dots to design with EZ 023 Midnight Blue.

10. Fire piece to shelf cone 04 bisque.

11. Apply two (2) coats of IN 1001 Clear using the SB 807 No 6 Fan Glaze.

12. Let dry, stilt and fire to shelf cone 06.
Your Recently Viewed Projects