Memory Wire Bracelet are not only simple to make, but so fun to wear. Once you have created some of your own beaded jewelry patterns, you can move on to bigger and more complicated projects. Free beaded jewelry patterns may seem like a complicated undertaking, but this project really breaks the mold. Use an assortment of glass beads to create a one-of-a-kind color scheme and overall design. You can also make one and give it as a gift during the holiday season. This is a fabulous project for anyone who is about to head to a fancy event or party.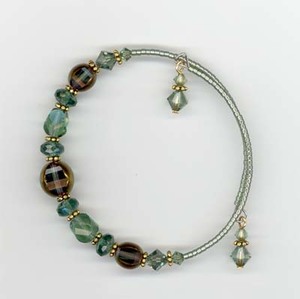 Materials:
Bracelet Memory Wire
2 Headpins
Assorted Glass Beads
Seed Beads to match assortment
Spacer Beads
Hard Wire Cutters
Chain Nose Pliers
Round Nose Pliers
Rubber Earring Back
Instructions:
Cut the memory wire so that there is a 1-2" overlap on the ring. It is important to use the hard wire cutters on memory wire as they will damage the cutting blade of regular wire cutters.

Place a rubber earring back about 1/2" from the end of the wire on one side. This will allow you to add beads and design your bracelet without being fully committed.

Add beads as desired. I usually focus on the 3" that are in the center and then fill in the sides with the seed beads. You can switch the rubber stopper from one side to the other as needed. Make sure you leave about 1/2" on each side for finishing.

Use the round nose or chain nose pliers to turn the end of the wire into a loop. We usually make loops with the round nose, but this is the one exception to where you may need to use a chain nose, as the wire is so firm you need to get all the leverage you can get. (this step will need to have an adults help) For comfort turn the wire away from the circle, that way it does not dig in to the wrist when worn and the added baubles hang right.

Add a couple of beads to the headpins and make a simple loop with the round nose pliers, attach to the loop on the memory wire bracelet for a nice accent.


Your Recently Viewed Projects