I Like Crochet Digital Magazine
I Like Crochet Digital Magazine
www.ilikecrochet.com
Reviewed by Melissa Conner, Editor of FaveCrafts.com
Are you a self-proclaimed crochet-a-holic? Do you find yourself stumbling upon crochet hooks in your drawers, purses, pockets, and in your car? Has yarn completely taken over your crafting space? If you answered yes to any one of these questions, you're going to love what we have in store for you.
We at Prime Publishing are happy to announce the launch of our first-ever premium content site, I Like Crochet. This exclusive crochet site contains crochet patterns, tips, and tutorials that you won't see anywhere else. Unique to I Like Crochet, these patterns are made by the best crocheters in the industry and given to you in a beautiful digital magazine.
A subscription to I Like Crochet includes six issues annually, with each issue delivering 30 projects and 7 tutorials…that's like getting 190 NEW projects and 42 tutorials every year! For your ultimate convenience, there is also a variety of subscription plans, detailed below.
Website and Tablet Subscription the best value!
Take I Like Crochet with you wherever you go, and also enjoy website access for printing out projects and watching tutorials on your computer screen.
$34.97 for a 1-year subscription
Website Access Only
Enjoy I Like Crochet's projects and tutorials on your laptop or desktop computer.
$29.97 for a 1-year subscription
Tablet Edition
Read I Like Crochet on your tablet!
$19.97 for a 1-year subscription
I Like Crochet just launched its first issue this August. To help show you what I Like Crochet is all about, here's a little sneak peek into the August 2014 issue:
Features:
Crocheting a Community: Get a closer look at the community options for die-hard crochet fans, including the popular Crochet Circle. Explore a variety of memberships and see which one would work best for you. Also, learn what you can expect at your first Crochet Circle meeting.
Seasonal Shawl Series: Find a different shawl to suit the season in every issue of I Like Crochet. This month's shawl is one you'll find yourself wearing year round! Lightweight and airy, this Summer Shawlette can be worn day or night for added warmth and comfort.
Bobble, Puff, or Popcorn?: They may all look the same, but the bobble stitch, puff stitch, and popcorn stitch are all very different. Learn how to master all of these stitches and learn how to use them to add texture and style to your crochet patterns.
Plus many more features!
Patterns:
Filled with more than 29 amazing patterns, this issue of I Like Crochet is sure to have something for all crochet fans. Broken down into sections, including wearables, accessories, vintage patterns, seasonal delights, home décor, and baby patterns, these projects are sure to become new favorites. Best of all, you'll get a whole new set of crochet patterns in every issue! Keep in mind that these patterns can't be seen ANYWHERE else…so you're the first (and only!) lucky crocheters to make these awesome designs.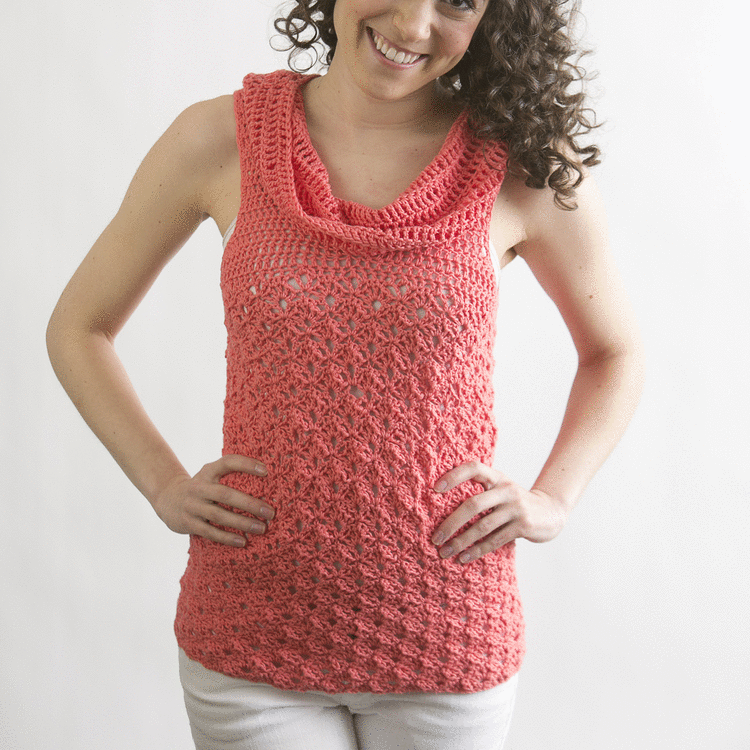 Take a look at a few of our favorite patterns in this issue:
Fan Trellis Cowl: Bold stripes of single crochet set off intricate lace panels in this unusual cowl. This versatile accessory can be worn across the shoulders as a close-fitting poncho, around the neck as a loose fitting cowl, or even over the head as a hood or snood.

Flower in Bloom Scarf: This floral scarf is comprised of vibrant flower-shaped granny squares. Great for summer accessorizing, this scarf is the perfect addition to a lightweight white dress.

Downton Cloche: This crocheted cloche is reminiscent of 1920's flapper style. Worked in double crochet and embellished with crocheted flowers, this easy project is perfect for dressing up any spring or summer outfit.

Berry Kiss Cowl Top: This berry pink cowl tank works perfectly for any summer barbeque or concert and is a must-make wearable for this summer. Create one in all your favorite colors so you always have a fun top to wear no matter what the season!

Little Rose Booties: Keep little feet warm with these little booties that feature a fun rose embellishment. Great for little ladies of all ages, these crocheted booties are sure to be cherished for years to come.

Tunisian Lace Curtains: Pink lace could be a recipe for sugar-sweet disaster, but not if it's balanced with geometric structure and trimmed in a tonal color. These surprising Tunisian Lace Curtains hit just the right balance—open, airy, and light.
Each issue of I Like Crochet also features book and product reviews, as well as helpful hints and tips from professional crocheters.
So if you find yourself searching and searching for the next great crochet project, you can rest your weary brain and head on over to I Like Crochet for access to hundreds of amazing patterns that are unlike anything you've seen before. Afghans, amigurumi, baby patterns, cowls, hats, home décor, scarves, shawls, sweaters, tops, accessories, and lots of tips and tutorials are all waiting for you…so gather up those hooks and get ready to dominate your yarn stash...these projects are sure to become treasured favorites for years to come.
Your Recently Viewed Projects