"How to Knit: Beginner Knitting Help and 7 Free Patterns"
Free Knitting Patterns with FaveCrafts: How to Knit: Beginner Knitting Help and 7 Free Patterns
How many of you are trying to learn a new craft technique and don't know where to begin? Some crafts are easy and can be done by anyone without much of a learning curve, but many require practice and detailed tutorials, such as knitting. It may be daunting to think about learning how to knit things like complicated sweaters and enormous, detailed afghans, especially if you've never even picked up a pair of knitting needles before. But don't fret! This free eBook How to Knit: Beginner Knitting Help and 7 Free Patterns was made with you in mind! If you know absolutely nothing about knitting and would like to learn how to make the gorgeous designs you see everyone else making, download this eBook for free and you'll get started in no time. The eBook is broken up into two parts: knitting help for beginners, and beginner knitting patterns. The first section includes an article on knitting abbreviations, including any abbreviation you may come across in your Lion Brand Yarn patterns, Bernat patterns, or other knitting projects. Here you'll also find information on knitting supplies, from knitting yarn to knitting needle sizes. Once you learn everything you need to know about getting started, you can continue on to the second section of the eBook, which is a collection of beginner knitting patterns. We've included patterns for a range of projects, from coffee cozies and afghans to belts and scarves. Many of these knitting patterns can be completed quickly, so you can create your first project right away, as soon as you learn a few basic knit stitches! But don't worry--if you're looking for a little more of a challenge, we've also included some more complex patterns that will take longer to complete so that you can feel proud of the new skill you've mastered!
How to Knit: Beginner's Guide
The beginner's guide features all the information you need to read before you even think about picking up a knitting needle or a skein of yarn! Read this section of the free eBook first, and then you'll be prepared to start learning how to knit. You'll learn all about different types of yarn and yarn weights, how to wind a ball of yarn, and what all of those mysterious stitch abbreviations mean! You'll want to download a copy of our abbreviations guide to your computer, and maybe even print it out because you'll be referring to it over and over again as you try your first few patterns. Bernat, Lion Brand, and other yarn companies all use these abbreviations in their patterns, so you'll need to know how to decipher them when you come across them. Having all of the knitting abbreviations in one place will be helpful to you, because you won't have to stop and look them up every time.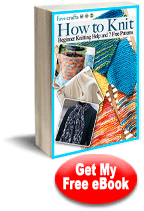 Download your copy of How to Knit: Beginner Knitting Help and 7 Free Patterns today.
How to Knit: Getting Started
After you learn all there is to know about yarn, hooks, and interpreting a knitting pattern, you'll need to learn the basics of actually using your supplies to knit! You'll learn how to cast on for knitting, casting off, and other basic stitches and "knitting how to." If you're using patterns from Lion Brand Yarn and other major yarn companies, you'll come across the same basic stitches over and over again, so once you master these, you should be able to do most knitting patterns with no trouble. We've included only the most basic and most prevalent stitches in this free eBook so that you don't have to wade through a lot of superfluous information before getting started! This is one of the best How to: Knitting guides around because it walks you through the process of learning how to knit. Knitting websites often provide lots of free knitting ideas and patterns without a lot of guidance as to how to follow those patterns, especially for beginners who are just learning the skill. Knitting on the net doesn't have to be a confusing and isolating experience, though. Our free eBook is great for someone learning to knit on their own. Download it today to see what indispensible knowledge awaits you! There's nothing better than free knowledge, so what are you waiting for? Download this comprehensive, beginner eBook so you can teach yourself to knit once and for all.
How to Knit: Quick Knitting Patterns
Need some knitting ideas? Once you've learned how to knit, you'll need to try out a few patterns to really hone your skills. After a while you'll be so used to knitting that your appetite for free knitting patterns will be insatiable! Inside this free eBook you'll find 7 free patterns for creative knitting ideas. We've included several quick and easy knitting patterns too so that you can make something cute and useful right away after learning the basics. We understand how important it is to get that feeling of accomplishment that comes with finishing your first project after you've learned a new skill, so we decided to include a bunch of small knit projects in this eBook so you'll be able to start and finish something right away! Included in this collection are several Lion Brand patterns and patterns from other knitting sites. You're guaranteed to find something you'd love to make! After you learn how to knit, head straight for the second half of the book so you can try out one of these quick and easy beginner knitting patterns on your own.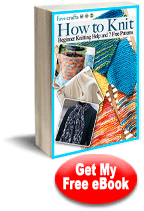 Download your copy of How to Knit: Beginner Knitting Help and 7 Free Patterns today.
How to Knit: Intermediate Knitting Patterns
Once you've finished your first few beginner patterns, it might be time for you to move onto something a little more challenging, like this gorgeous (yet easy!) afghan. Yes, even beginner knitters can make an afghan! Don't be scared away by the sheer size of this knitting project. It may take a while to complete, but once you learn how to knit, it'll be a piece of cake for you. The knitting instructions we've included for this project and more will be enough to get you through the pattern. You'll be ready to move onto advanced knitting patterns in no time, once you tackle these intermediate patterns. We've got more than just afghans too! Check out our scarves, knitting accessories, and even some potholders. So go ahead and show off your new knitting abilities. Your friends and family will be amazed at all of the complex and difficult looking patterns you can complete now that you've learned how to knit. All you have to do to get started is download our eBook for free, and you'll be well on your way to creating gorgeous knit pieces. And once you finish all of the patterns we've included in the book, you can knit anything you find online or in knitting books! That's the best part--our eBook will teach you how to knit, and then you can apply your new skill to anything you set your mind to. This skill will serve you well throughout the rest of your crafty years.
With your free copy of How to Knit: Beginner Knitting Help and 7 Free Patterns eBook you can also subscribe to our Quick and Crafty newsletter to become part of a helpful and friendly crafting community. In subscribing to the newsletter you will receive:
Six weekly emails with free craft projects, tips, collection pages, videos and more
Chances to win craft books and products from our weekly giveaways and contests
New FREE patterns made available to you throughout the year
Access to our free project library full of over 7,000 more free craft projects
The opportunity to share ideas and help others in the crafting community
All of this great beginner knitting information can be yours, absolutely free, from the abbreviations guide to the 7 free knitting patterns. All you have to do is click to download the eBook, and you can save it to your computer, print it out, or just bookmark the page and return as often as you like! These patterns will keep you busy for months, and we think you'll enjoy trying out more than just one! You can use this book to teach yourself a new craft technique, and then keep it as a reference whenever you need to brush up on a basic knitting skill. Download it now to start knitting and discover what millions of people have been enjoying for centuries!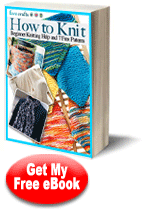 Download your copy of How to Knit: Beginner Knitting Help and 7 Free Patterns today.
Your Recently Viewed Projects
Join our community of 5 million crafters!
Get free craft projects, exclusive partner offers, and more.
Thank You for Signing Up!
There was an issue signing you up. Please check your email address, and try again.