Recycled Screen Beads
Say goodbye to boring jewelry and hello to colorful, unexpected homemade baubles. Use a recycled window screen to create long skinny beads you can string on a necklace or bracelet. Recycled Screen Beads from Heidi Borchers are easy to make and look great.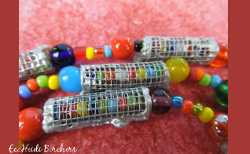 Materials:
Metal window screen
Aleene's Original Tacky Glue
Scissors (I use dollar store scissors)
Knitting needle
Hair dryer (optional)
Toothpick
Straight pin – long enough to pin through side of bead and into box
Cardboard box
Acrylic paint (I used silver metallic)
Paint brush
Beads (various sizes including sizes to fit inside window screen beads)
Jewelry beading wire, closure, crimps, jewelry pliers
Instructions:
Cut pieces of metal screen into rectangles approximately 1-1/4″ x 2″. (Adjust size to suit your design needs.)

Lay screen on worktable. Place knitting needle along shorter edge and begin rolling to wrap the screen around needle. Wrap as tight as you can and keep the edges straight as you roll.

Pull bead off needle. Because the screen is metal, the rolled bead should hold together nicely.

Apply a line of Aleene's Tacky Glue to all cut edges. This will help to seal any rough points. (Hint: you can use a hair dryer on low setting to help glue form a skin to avoid excess drips.)

To suspend the bead while the glue dries, poke pin through side of bead and press it into side of box. This will keep the glued areas from sticking to anything while the glue dries. If glue begins to drip, just use the toothpick to wipe away the drip. Repeat to create additional beads. Let glue dry until clear.

When glue is dry, check cut edges to be sure that all sharp wire points are completely covered in glue. If needed, add an additional coat of glue and let dry.

Slip dried bead onto end of knitting needle and brush over entire bead with acrylic paint. Some paint will stick into the window screen openings. Let dry completely.

To string window screen beads, you can slip smaller beads onto beading wire. Slip the window screen bead onto the wire and slide over the smaller beads until they are "caged" inside the wire bead. Add a large bead at each end of wire bead to hold everything in place. Continue beading until desired beading design is achieved. Finish with favorite jewelry closure.
Your Recently Viewed Projects
Join our community of 5 million crafters!
Get free craft projects, exclusive partner offers, and more.
Thank You for Signing Up!
There was an issue signing you up. Please check your email address, and try again.